NEW SEASON: NBC's The Event merits your affirmative RSVP
09/16/10 01:20 PM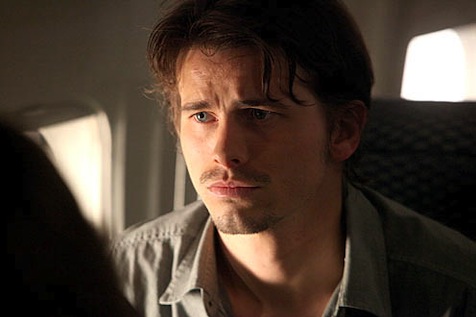 "Everyman" Sean Walker has lots on his mind in The Event. NBC photo
Premiering:
Monday, Sept. 20th at 8 p.m. (central) on NBC
Starring:
Jason Ritter, Laura Innes, Blair Underwood, Sarah Roemer, Scott Patterson, Zeljko Ivanek, Bill Smitrovich
Produced by:
Evan Katz, Steve Stark, Jeffrey Reiner, Nick Wauters
By ED BARK
Maybe it's silly to get hooked on these things. Silly me, I'm hooked after watching Monday night's inaugural episode of NBC's
The Event
.
A saturation, multi-platformed promotional campaign likely has attuned most potential viewers to the fact that this is another of those peel-away-the-layers, mythology-rich puzzlers determined to string you along week to week without telling too little or too much.
Fittingly then, the first hour's final words come from a mysterious and pivotal character played by former
ER
star Laura Innes. "I haven't told you everything," she tells the president (former
L.A. Law
star Blair Underwood) after a runaway plane has taken dead aim on his Florida retreat.
I can't wait to see the second episode. Seriously. That's because
The Event
skillfully builds its case via a series of time travels spanning "Thirteen Months Earlier" to the present. Stay the course and this big picture will start coming into focus, even though the true test will be how well
The Event
handles itself in the coming weeks. Will it be an aggravating, slowly unfolding string-along or a pulsating page-turner of a story that keeps delivering the goods?
Unfortunately for
The Event
, it's the second best new drama series of the season scheduled directly against the best -- Fox's terrific, Texas-centric
Lone Star
. But that serial drama also will have something to prove in the coming weeks. How long can it credibly sustain its story of a matinee idol con man leading two lives with two wives? So far so good, with a full review coming in a future post.
The Event
's mystified central character is Sean Walker (Jason Ritter, son of the late John Ritter). We initially see him in two utterly different situations. He's aboard a jetliner, brandishing a pistol and demanding access to the cockpit. And eight days earlier he's on a pleasure cruise, preparing to propose marriage to his girlfriend, Leila (Sarah Roemer).
That aforementioned "Thirteen Months Earlier" rewind takes viewers to snowy Mount Inostranka, Alaska, where Innes' character, Sophia Maguire, is first seen. It's clear that she knows what "The Event" is. But President Elias Martinez (Underwood) must not know, she insists.
Meanwhile, back on the cruise, Walker is in for some severe shocks to his young system. And he's only about a week away from boarding that plane with pistol in hand.
Some of the events in
The Event
remain inexplicable. But the to-and-fro storytelling otherwise is pretty air tight. It seems for all the world that extraterrestrials are involved in some way. But that's really only a guess -- and perhaps what seems to be "the obvious" will be nothing of the sort.
The producers of the series assured TV critics earlier this summer that they're well aware of all the perils and pitfalls at hand.
The Event
will have to deliver again and again on the promise of its pilot episode. Even
Lost
lost millions of viewers before finally careening to its satisfying/unsatisfying end.
The Event
could do a lot worse in time, But for now, amid the joys of first discovery, it's all systems go.
GRADE:
A-minus