Zucker is CNN's new leading man after long up-and-down career at NBC
11/29/12 12:07 PM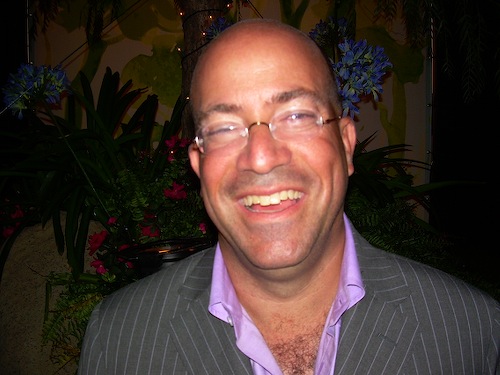 Jeff Zucker at a summer 2010 NBC Universal party. Photo: Ed Bark
By ED BARK
@unclebarkycom
Jeff Zucker pledged allegiance to non-partisanship while promising to "broaden the definition of what news is" during his first hour on the job as president of CNN Worldwide.
The former architect of the
Today
show's morning dominance and the prime-time Jay Leno fiasco won't officially step in at CNN until sometime in January. But the granddaddy of cable news networks officially welcomed him aboard Thursday via a teleconference with TV writers.
Zucker, 47, spent an up-and-down quarter-century with NBC before new owner Comcast
bounced him in 2010
as head of the NBC Universal Television Group. He lately has been executive producer of Katie Couric's new syndicated talk show
Katie
, but will leave that position in mid-January, Zucker said.
Phil Kent, chairman and CEO of CNN's parent company, Turner Broadcasting System, emphasized that the NBC broadcast network's ratings free-fall during Zucker's tenure are beside the point in terms of what he brings to CNN.
"I did a lot of diligence, and I was looking for a very specific talent here, which is someone who would be a great leader of a news organization," Kent said during the teleconference. "Asking Jeff today about things that might have gone differently in his background as an entertainment executive is just not relevant."
Zucker will replace Jim Walton, who announced in July that he would resign at the end of this year. CNN needed "new thinking" at the top, Walton said.
Zucker said his "most rewarding years" at NBC were as a news producer. Besides
Today
(which he began producing at the age of 26), he also helmed the
NBC Nightly News with Tom Brokaw
and coverage of the Persian Gulf War and 2000 presidential election.
"In some ways this is a return to a daily form in which I felt most comfortable," he said. "There's no doubt I made mistakes in the entertainment world, and I own those."
NBC's broadcast failings were somewhat offset during the Zucker years by his success stories with the network's cable properties, which included USA, Syfy and Bravo.
"If we didn't have a broadcast network, we'd probably be the strongest media company out there," Zucker told unclebarky.com at a summer 2010 NBC Universal party. "The cable networks are doing great, but until NBC is stronger we're not going to get enough credit for that."
During Thursday's teleconference, Zucker was understandably non-committal on any specific changes he has in mind for CNN. But he won't make the network a political soapbox in league with cable rivals Fox News Channel and MSNBC.
"I think the important thing is that CNN continue to remain editorially independent," he said, noting that it would be a mistake to let either FNC or MSNBC dictate CNN's future direction. Instead he plans to "continue to broaden the definition of what news is, and understand that our competition is not just Fox and MSNBC."
"The key is that CNN remain true to its standards of great journalism, but at the same time be vibrant and exciting," he added. "Just because you're not partisan doesn't mean that you can't be exciting . . . We need more passion and more fans, and that shouldn't be mistaken for partisanship."
Zucker twice made it a point to say that "news is more than just politics and war." It indicated a possibly softer future for CNN, with more "lifestyles" and entertainment coverage.
He declined to offer any remedies for CNN's struggling morning show, but Kent made it clear that this is a priority for the network.
"It's not lost on any of us that occasionally HLN's (CNN's Headline News channel) morning show beats CNN's morning show," Kent said before lauding Zucker as "one of the great innovators in that daypart."
Zucker will continue to be based in New York, where his triumphs and tribulations have long been under a microscope.
"If you don't learn, especially from your failures, then you haven't learned anything," he said.
unclebarky@verizon.net