NBC's Bent gets a bum's rush despite being a pretty good sitcom
04/01/12 10:37 PM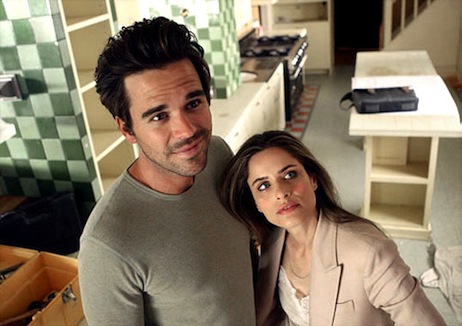 David Walton and Amanda Peet of Bent. NBC photo
Premiering:
Wednesday, March 21st at 8 and 8:30 p.m. (central) on NBC

Starring:
Amanda Peet, David Walton, Jeffrey Tambor, Margo Harshman, Joey King, Jesse Plemons, J.B. Smoove, Matt Letscher, Pasha Lychnikoff

Produced by:
Tad Quill


By ED BARK

Everything goes unrequited in Bent. That even includes the kitchen, which seems fated to remain in terminal disrepair regardless of whether this new NBC comedy somehow manages to last beyond its initial three-week, six-episode run.

So it's probably best not to get too attached to an amusing but sometimes aggravatingly childish enterprise from Tad Quill. He's fully in charge for the first time after logging a series of co-producer credits on the likes of Spin City, Scrubs and Samantha Who?

Bent is will-they-or-won't-they all the way. Will cocksure Pete (David Walton) and his lay-about construction crew ever complete the remodeling of divorced lawyer Alex's (Amanda Peet) Venice, California kitchen? For that matter, will viewers buy the fact that she keeps them employed even though they manage to get basically nothing done day after day after day?

Might Pete and Alex hook up at some point despite the fact they're polar opposites? Or might Alex instead choose the much stabler Ben (Matt Letscher), a doctor who all in all is not such a bad guy even if the writers can't seem to decide whether he should wear glasses or not.

Might Alex's free-wheeling younger sister, "Screwsie" (Margo Harshman), ever get down to it with painfully earnest apprentice carpenter Gary (Jesse Plemons from Friday Night Lights)? Meanwhile, will Pete and his other two crew members ever stop hazing the poor guy?

Lastly, will Pete's roommate dad, Walt, ever grow up? He's played by Jeffrey Tambor, so no, he won't. Finally an easy one.

I watched all six episodes of Bent, largely because they had just enough going for them to keep me hanging on. Only to be left hanging in virtually every way, shape and form. This is not good when the odds of Bent returning next season look longer than the beards on A&E's latest "real life" concoction,
Duck Dynasty
, which also premieres Wednesday.

NBC is offering back-to-back episodes of Bent on three successive Wednesdays in a time slot also occupied by Fox's American Idol, CBS' Criminal Minds and ABC's already established comedy duo of Modern Family and Happy Endings.

That's daunting competition for a newcomer that begins smartly with some sharp repartee in Episode 1.

Pete, who's also a surfin' Lothario and recovering gambling addict, supposedly is trying to turn his life around. He's handy with his hands in more ways than one, which leads him to the doorstep of Alex and her 10-year-old daughter, Charlie (Joey King). Her ex-husband is out of the picture, serving time for one of those catch-all TV sins, insider trading.

"Can I be honest?" Pete asks her at first blush.

"Doesn't seem like it," she fires back. Good one.

He gets the kitchen magician job, but soon is in trouble for sleeping with Alex's nanny. At least this happens away from the job site.

You're fired, he's told. Yeah, right. Alex also has a question: "Why are you cocky? Is there some universe where 35 and constantly baked is cool?"

"Yeah!" Pete retorts. "Venice." Another good one.

This is a solid first episode, and the five half-hours to come are by no means a sudden cliff dive into mediocrity. Still, the premise -- and all of that running in place -- begin to try one's patience.

The ever lovely and talented Peet is always worth watching whatever her surroundings. But Walton's Pete almost begins to get a little creepy. And his inept crew, which also includes Clem and Vlad (J.B. Smoove from Curb Your Enthusiasm and Pasha Lychnikoff), reaches the point where you'd rather throttle the whole bunch of 'em than play along.

Tambor's presence gives just about any comedy an Arrested Development feel. But even his neurotic narcissism is getting a little too predictable to click on all cylinders. Still, he has his moments. He always does.

Bent ends up being worth watching for the recurring grins it provides. Just don't expect to ever know what happens to any of its main characters. In that respect, NBC's pre-measured coffin is looking pretty air-tight. Six episodes in three weeks and then six feet under. That's no way to treat a pretty good comedy series, but what else is new?


GRADE:
B-minus