Still full of majesty, Netflix's The Crown returns
12/07/17 04:58 PM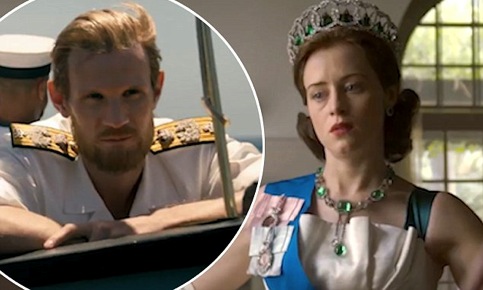 Philip and Elizabeth go their separate ways for starters. Neftlix photo
By ED BARK
@unclebarkycom on Twitter
Long live
The Crown
-- which thankfully is already assured.
Season Two of a planned six-season, 60-episode tale begins streaming Friday, Dec. 8th on Netflix. And after steaming all the way through it, there seems little doubt that this is The One. The One that will rise well above all of Netflix's other acclaimed originals, including
House of Cards, Orange Is the New Black
and
Stranger Things
.
Although encompassing just six years, from 1957 to 1963,
The Crown
retains its epic feel and abundant luster throughout Season Two's 10 hours, all of which were made available for review. Save for a fleeting flashback glimpse in Episode 6, this go-around goes without John Lithgow's sterling, award-lauded portrayal of Winston Churchill, who died in 1965.
At first this seems like a major and possibly unfillable void. But in fairly short order,
The Crown
captivates anew on the strength of its fresh intrigues and the returning performances of Claire Foy as Queen Elizabeth II, Matt Smith (Prince Philip) and Vanessa Kirby (Princess Margaret).
Peter Morgan, architect of it all, retains a master's touch, both as a storyteller and scene composer. A series about the longest-lasting royals of them all of course must have majesty and scope. And
The Crown
is fit for both theaters and whatever size your home TV screen might be.
Episode 1 begins on Feb. 16, 1957, with the Queen's marriage imperiled and impaled by accusatory newspaper headlines after Philip returns from a 5-month sojourn at Elizabeth's insistence. The idea had been for Philip to "find" himself via a grand tour of the English empire's properties plus a command appearance at Australia's summer Olympic games.
But during this leave of absence, Philip's closest pal, top aide and likeminded playboy Mike Parker (Daniel Ings), is sued for divorce after his wife at last obtains proof of his adultery. Philip is suspected as well, particularly after news gets out that "what happens on tour stays on tour," according to a letter from Mike read with much frivolity by his chums back home.
After the royal marriage is put in crisis mode,
The Crown
spends a good deal of its first three episodes rewinding through Philip's great adventures abroad while Elizabeth both longs for his company and frets about what other company he might be keeping. Whether Philip is really guilty of anything is left to interpretation. In due time, he grows a beard at sea and sends back a brief and thoroughly winning movie of his exploits in Antarctica during the long journey back home. His noble side also is captured via an impromptu rescue mission and attendant, selfless detour of his ship's route.
But what will it take for Philip to stay with Elizabeth in light of her dictum that divorce is "not an option for us -- ever?" It turns out he does have a price. And it involves a title.
Headstrong, hard-drinking Margaret, even more unfulfilled than Philip, is largely missing in action until her very welcome return in Episode Four. Again jilted in matrimony, she finds both solace and a devil's workshop in the person of hedonistic, haughty photographer Antony "Tony" Armstrong-Jones (Matthew Goode). Although there's no nudity, this is one sexy and seductive hour.
Episode 5 has to do with livening the Queen's dull and at times condescending approach to her "subjects" while the next hour is an enthralling mystery dating back to Nazi Germany and eventually implicating the deposed David, Duke of Windsor (Alex Jennings), who longs to be back in Buckingham Palace's good graces. This also is the episode in which visiting evangelist Billy Graham (Paul Sparks) is dismissed by Philip as a "door to door salesman in a hideous shiny suit." But Elizabeth is quite taken with him, and their palace discourses prove to be both affecting and instructive.
Episode 7 returns Margaret to the fore, with her older sister again vexed by her choice of a husband. This time it's the less than virtuous Armstrong-Jones, who completes her in a sense.
Season Two has just one curious misstep -- the totally unsuitable casting of Michael C. Hall as President John F. Kennedy. Little effort is made to make him look anything like JFK, to the point where many a viewer might simply exclaim, "Hey, it's Dexter!" (the serial killer he played on Showtime's long-running and still most successful series). Hall is lacking in almost every way imaginable. And his JFK is also a vain and jealous jackass in this depiction. Fortunately, he's comparatively little-seen compared to his insecure wife, Jacqueline (Jodi Balfour), whose scenes with Elizabeth both intimidate and embolden the Queen. Balfour is every bit as good in this role as Hall is not.
Another new character, prime minister Harold Macmillan (Anton Lesser), recurs throughout Season Two. He's never much more than a weasel, with a wife who detests him and a Queen who largely sees through him but is tired of a merry-go-round of prime ministers -- three of them -- during the first 10 years of her reign. In one of her more delicious lines, she upbraids Macmillan's determination to resign for health reasons, lumping him with a "confederacy of elected quitters."
The Season Two finale includes another confrontation between Elizabeth and Philip, furthering the impression that they are much like the Clintons in terms of both toleration and looking the other way. But the set-up hour, which is heart-rending at times, recounts some of what Philip went through during his exceedingly trying youth -- and how it both scarred and steeled him. Episode 9 also is the only one in which young Charles (Billy Jenkins) is spotlighted to any degree as an easy target for school bullies.
Foy is scheduled to be replaced as an older Elizabeth in Seasons Three and Four by Olivia Colman (
Broadchurch
), whose casting was announced in October. She has been exceptional in the role, embodying both the Queen's steadfast devotion to duty and her occasional efforts to break out of a shell of her own making.
Any successors to Jones' Philip and Kirby's Margaret haven't been announced yet. But as with Foy, they'll all be much missed.
For now, though, enjoy and appreciate all three of these principals in a Season Two that matches and sometimes surpasses the quality of the series' initial 10 hours.
The Crown
remains a joy to behold and savor, whether it's Philip giving a most gracious 10th anniversary toast or Elizabeth uncharacteristically coming alive while dancing the fox trot with the leader of Ghana. Meanwhile, Margaret is ever unbridled -- and always compellingly so.
This is drama of the highest calling that still will be just one-third of the way to its conclusion after you binge your way through this new season -- and then perhaps make room for a second helping. Which is just what I plan to do next.
GRADE:
A
Email comments or questions to:
unclebarky@verizon.net