Going to Graceland: Simon gets a Gershwin
06/26/07 02:59 PM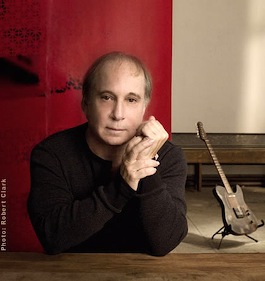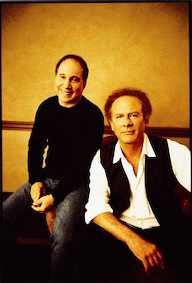 The solo Paul Simon -- and with his better half, Art Gartfunkel.
By ED BARK
For much of the time it rolls along at an A-plus -- before ending on a B-flat.
PBS'
Paul Simon: The Library of Congress Gershwin Prize for Popular Song
finds the sometimes somber recipient in the good humor such an occasion demands.
He's the very first honoree, after all. And this previously taped two-hour special (9 p.m. in Dallas on KERA-TV/Channel 13) further enshrines him as one of music's great long distance runners.
Simon, 65, begins the show sportingly, singing the upbeat "Me and Julio Down by the Schoolyard" in the company of Stevie Wonder on harmonica. He's then offstage until a long-in-coming grand finale that fails to deliver the anticipated knockout punch.
Shirt hanging out and hair wearing thin, Simon re-begins vigorously with Ladysmith Black Mambazo and a rousing performance of "Diamonds On the Soles of Her Shoes." He seems to be having a helluva time at Washington D.C.'s Warner Theatre, where the ceremony was held on May 23rd. Warmly hugging Ladysmith's leader, Simon then welcomes "my dear friend and partner in arguments, Art Garfunkel."
They hug, too, but not as though they're crazy about it. This is, however, what watchers have been waiting for. So how many tunes are they gonna do? Just one -- "Bridge Over Troubled Water" from their final album together in 1970. It's their anthem, but this particular version just doesn't sing as it should.
Garfunkel's then gone, leaving Simon to solo on one of his lesser songs, "Father and Daughter." Then he's rejoined by Wonder and the Dixie Hummingbirds for "Loves Me Like a Rock." A review copy sent to critics includes Wonder's false start and game joke -- "I'm sorry. I don't have my cue cards." All in all, the entire effort is kind of forgettable, although everyone clearly is trying hard.
A hoped-for redemption would have been Garfunkel returning to the stage for a final medley or at least the pair's first big hit, "The Sound of Silence." But instead we get composer Philip Glass playing us off with a jazzed-up, uninspiring piano version of "Silence" as the closing credits roll.
Oh no, this just won't do. And it's a very odd way to end a program that otherwise has more than a few highlights on its side. None is more arresting than Simon's incredibly poignant 1999 performance of "Mrs. Robinson" at Yankee Stadium in honor of the late Joe DiMaggio.
PBS wisely replays it in full, with Simon standing alone in black on the hallowed turf while Yankee players are transfixed in their dugout. "Where have you gone, Joe DiMaggio? A nation turns its lonely eyes to you." Look for this in the first half of the special, following an introduction by Bob Costas.
Costas earlier sums up Simon as a generation-spanning troubadour whose best music conceivably could still be ahead of him.
"This has been an astonishing run," he says. "Paul Simon is classic and contemporary at the same time."
Some of his contemporaries join in.
Lyle Lovett has a fine and spirited time with "50 Ways to Leave Your Lover" after beginning it as almost a funeral dirge.
Alison Krauss and Shawn Colvin team beautifully on "The Boxer." James Taylor has a nice time with "Still Crazy After All These Years" and "Slip Slidin' Away." Stephen Marley is terrific on "Mother and Child Reunion" while Marc Anthony deservedly gets one of the night's bigger ovations for "Late In the Evening."
The program also makes room for
Saturday Night Live
founder Lorne Michaels, who's lived across the hall in the same building as Simon for 30 years.
People ask him, "What's it like to live next door to a genius?" Michaels says. His response: "Don't ask me. Ask Paul."
He gets away with that line. But you might come away from this special thinking about how it went on a little too long before sagging near and at the finish line.
Even so, it's still a palate-cleanser during a summer marked by a continued heavy onslaught of broadcast network "reality" concoctions. PBS always aims higher than that, and without breaking a sweat. So you could do far, far worse than give Paul Simon and friends a prolonged tumble Wednesday night.
Grade:
B+