The sun rises in the east -- and Keith Olbermann gets fired again
04/01/12 11:12 PM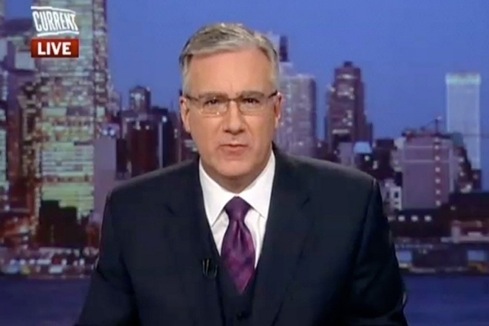 By ED BARK

Wow, that didn't take long -- even by Keith Olbermann's standards.

Network television's consummate bridge-burner got sacked again Friday. This time even Current TV couldn't take him anymore.

In a letter addressed "To the Viewers of Current" on the
cable net's website
, founders Al Gore and Joel Hyatt said in part that Current was "founded on the values of respect, openness, collegiality, and loyalty to our viewers. Unfortunately these values are no longer reflected in our relationship with Keith Olbermann and we have ended it."

Concurrently, a Current TV publicity release sent to TV writers late Friday afternoon announced that former New York Gov. Eliot Spitzer will be Olbermann's 7 p.m. (central) replacement, beginning immediately. The show will be titled Viewpoint with Eliot Spitzer.

Spitzer earlier presided over the failed In the Arena and an earlier version of that program on CNN. The network hired him despite Spitzer's well-publicized resignation from office after he became enmeshed in a prostitution ring scandal.

"Eliot Spitzer is a veteran public servant and an astute observer of the issues of the day," Gore said in a statement. "He has important opinions and insights. Eliot relishes the kind of constructive discourse that our viewers will appreciate this important election year."

He probably can be counted on to show up for work, too. That wasn't always the case with Olbermann, who first lit a fuse with his Current bosses by declining to participate in the network's prime-time coverage of the Iowa caucuses and New Hampshire presidential primary.

Asked about this by unclebarky.com during the recent winter Television Critics Association "press tour," Current president David Bohrman gave the implication that the network was powerless to make Olbermann do anything he didn't want to do in return for the handsome salary he had negotiated after being dumped by MSNBC.

Bohrman said that Current executives "had approached Keith about doing election coverage a couple of months ago for the early primaries. He declined. We have now been told by Keith that he will be leading our coverage going forward, and that is what we want to do."

Olbermann fired back with a series of Tweets Friday, 11 of them as of this writing.

"It goes almost without saying that the claims against me in Current's statement are untrue and will be proved so in the legal actions I will be filing against them presently," Olbermann said.

He also tweeted that "in due course, the truth of the ethics of Mr. Gore and Mr. Hyatt will come out. For now, it is important only to again acknowledge that joining them was a sincere and well-intentioned gesture on my part, but in retrospect a foolish one. That lack of judgment is mine and mine alone, and I apologize again for it."

Initially hailed by Current as "one of our great provocateurs," Olbermann was hired by the still little-seen network in February of last year. His program premiered in spring 2011, with Gore enthusing, "In a world where there are fewer and fewer opportunities to hear truly distinct, unfettered voices on television, we are delighted to provide Olbermann with the independent platform and freedom that Current can and does uniquely offer."

Olbermann also was given an equity stake in Current as well as the title of Chief News Officer. Where will he go next? To court, it seems.