Fall season: Next to no juice in CW's The Vampire Diaries
09/10/09 08:16 AM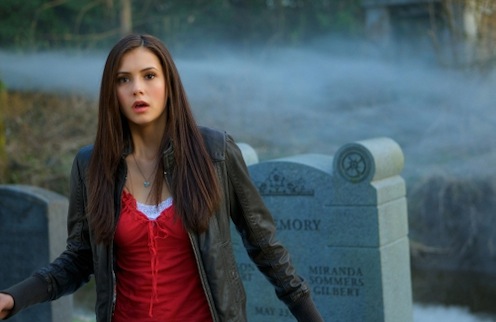 A spooked Elena Gilbert visits her parents' grave in Vampire Diaries.
Premiering:
Thursday, Sept. 10th at 7 p.m. (central) on The CW
Starring:
Nina Dobrev, Paul Wesley, Ian Sommerhalder, Katerina Graham, Candice Accola, Steven R. McQueen, Sara Canning, Zach Roerig, Kayla Ewell, Michael Trevino
Produced by:
Kevin Williamson, Julie Plec, Leslie Morgenstein, Bob Levy
By ED BARK
The ponderous, pretentious opening narration pretty much tells you that this at best will be a pint-sized, junior league version of HBO's
True Blood
.
"For over a century I've lived in secret, hiding in the shadows, alone in the world," intones Stefan Salvatore (Paul Wesley). "Until now. I am a vampire. And this is my story."
Alas, he feels compelled to elaborate in The CW's
The Vampire Diaries
, being paired with the appreciably superior
Supernatural
on Thursdays this fall.
The auteur is Kevin Williamson, who used to write far more compellingly for his lone masterwork, the defunct WB's
Dawson's Creek
. But here he is putting words in teen's mouths again. Williamson is 44 now, but he won't grow up. No, he'll never grow up. His touch has withered, though, leaving
Vampire Diaries
with little lifeblood and less bite.
Stone-chiseled Stefan, ridiculously soulful, arrives in smallish Mystic Falls just in time for the school year. He's stopped feeding on humans and is striving to stay on the wagon. Willowy Elena Gilbert (Nina Dobrev), still coping with the recent death of her parents in a car crash, looks mmm mmm good to him. But he's not that kinda guy anymore.
Elena's hangin' in there, but her younger brother, Jeremy (Steven R. McQueen, grandson of the legendary Steve), has both copped a 'tude and resorted to selling drugs in pill form.
"I'm going to be there to ruin your buzz every time. Got it?" Sis warns him.
Vampire Diaries
does a good job of that throughout. It comes up lame at almost every turn, including when Stefan informs a smitten Elena, "I've never really been very good at, uh, chit-chat."
Groan. A little bounce is added late in Thursday's premiere when Stefan's super-sinister vampire brother, Damon (Ian Sommerhalder), drops in to sneer and crack wise. He's already killed a couple of townies and sunk his teeth into the neck of the high school tart. It's all part of his master plan to bedevil his brother at every turn. "I promised you an eternity of misery," he says. "I'm just keepin' my word."
The principal vampires of
True Blood
, Bill Compton and his "maker," Eric Northman, could eat these guys for breakfast, lunch, dinner, or as a snack. But
Vampire Diaries
is less filling than a lite beer after a marathon run. From start to stop, there's just no sizzle.
GRADE:
D
PROGRAMMING NOTE:
True Blood
has its Season 2 finale Sunday night, Sept. 13th, as does HBO's first-year series
Hung.
I'm eager to see what happens on both fronts. Respective show times are 8 and 9 p.m. (central). Both series have been renewed.