Season Two of Get Shorty improves on the first while again giving Epix a booster shot
08/10/18 10:52 AM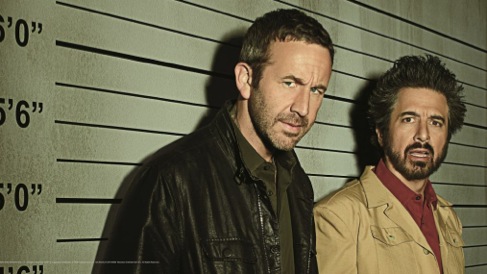 Chris O'Dowd/Ray Romano come up big in Get Shorty. Epix photo
By ED BARK
Two of last year's very best first-year drama series, HBO's
The Deuce
and Epix's
Get Shorty
, received total bypasses from Emmy voters last month.
Not a single nomination came either show's way. But now it's payback time -- for appreciative viewers at least. Season 2 of
The Deuce
will launch on Sept. 9th, but the sophomore year of
Get Shorty
is nearly upon us. It restarts with back-to-back episodes on
Sunday, Aug. 12th from 8 to 10 p.m. (central)
. And based on the first five episode made available for review,
Get Shorty
has upped its game from an already standout Season One.
Adapted from the same-named novel by the late, great Elmore Leonard (after a
well-received 1995 movie
), Epix's first-rate version continues the travails of Ireland-bred hit man turned movie producer Miles Daly (Chris O'Dowd) and B-movie shlepper Rick Moreweather (Ray Romano). Their first collaboration,
The Admiral's Mistress
, is now close to getting off the ground and possibly paying off a clandestine, money-laundering investment by drug-running boss lady Amara de Escalones (Lidia Porto).
But nothing comes easy for anybody in
Get Shorty
. And by the halfway point of Season Two's 10 episodes, there are enough crazy-quilt further complications to fuel all kinds of possibilities.
A key addition to the new season's cast is Felicity Huffman as FBI agent Clara Dillard. She's a cajoling and at times sweet-talking manipulator who has Rick on the leash as a wired informant who late in Season One developed a very personal relationship with the lethal but needy Amara. Meanwhile, Miles is striving to be a good father to daughter Emma (Carolyn Dodd), who's caught in the middle of dad's up-and-down custody fight with his estranged wife, Katie (Lucy Walters). The scenes between Miles and Emma are some of this dramedy's best.
Miles' partner, Louis Darnell (Sean Bridgers), is still worse for wear in the early going after being shot multiple times last season. He remains both comedic and ruthless, but there's also a soft spot in play via his growingly intimate relationship with Rick's assistant, Gladys (Sarah Stiles).
O'Dowd's performance as Miles again is eminently Emmy worthy, with Episode 3 further spotlighting his talents after a mishap prompts a personal awakening while he's recuperating in a cheap, out-of-the-way motel. Miles is first and foremost dedicated to making a movie of true artistic merit, which
Admiral's Mistress
decidedly isn't. But strong-armed deals are his only means to this end. So Miles alternately exudes both charm and a lethal determination to make things happen for him.
Season 2 also drops in Steven Weber as a powerful and amoral film producer named Lawrence Budd, whose getting-ready-in-the-morning ritual is not to be missed. And Peter Stormare returns, briefly so far, as vainglorious director Hafdis Snaejornsson, whose cut of
Admiral's Mistress
sends all who see it into shock.
Porto's Amara is seen in some new lights, both as an affectionate dispenser of gifts to Rick and as a vulnerable drug-runner who's being strong-armed herself after a big shipment gets waylaid. Romano's Rick is forever harried, and in Episode 5, terrorized. The former star of
Everybody Loves Raymond
continues to impress in roles one wouldn't have envisioned for him.
In short,
Get Shorty
is superbly entertaining, both dramatically and comedically, and buoyed by performances that still lack official recognition from various trophy dispensers. They need to get with it -- and now have a second chance.
GRADE:
A
Email comments or questions to:
unclebarky@verizon.net