Nurse Jackie the latest big booster shot for Showtime
06/03/09 02:51 PM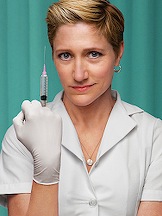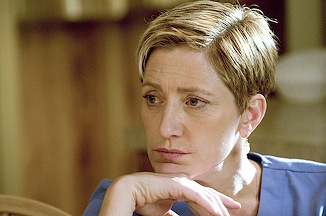 Premiering:
Monday, June 8th at 9:30 p.m. (central) on Showtime
Starring:
Edie Falco, Eve Best, Peter Facinelli, Anna Deaver Smith, Merrit Wever, Dominic Fumusa, Paul Schulze, Haaz Sleiman, Ruby Jerins, Daisy Tahan, Stephen Wallem
Created and produced by:
Evan Dunsky, Liz Brixius, Linda Wallem
By ED BARK
Summertime's best new series again shows how far Showtime has come.
Once a Lilliputian to HBO's Gulliver, Showtime has all but reached parity on the series front with
Weeds, Dexter, The Tudors, Californication
and now
Nurse Jackie
.
What's more, it's plucked one of HBO's all-time biggest stars to play the title role. Edie Falco segues from Carmela Soprano to Jackie Peyton, a hard-edged, pill-popping, unfaithful but dedicated healer who'd someday like to be heaven-worthy.
"It bears repeating," she narrates at the close of Monday's Episode 1. "Make me good, God. But not yet."
Jackie's domain is the ER at Manhattan's All Saints Hospital, where she's long become accustomed to the truism that "life is full of little pricks." Showtime sent the first six half-hour episodes for review, and your friendly content provider ended up devouring them with the same appetite that Jackie has for her illicit prescription meds.
They're provided by hospital pharmacist Eddie Walzer (Paul Schulze), who also serves as her workplace sexual liaison. Unbeknownst to him -- Jackie never wears her wedding ring on duty -- she's married to a fine, upstanding bar-restaurant owner (Dominic Fumusa as Kevin Peyton). They also have two young daughters, with the oldest, 10-year-old Grace (Ruby Jerins), already suffering from anxiety.
All of this hardly makes Jackie a textbook good person. But she's a crackerjack nurse and caregiver who will break rules and circumvent doctors in pursuit of optimum patient care -- or at least something in the vicinity.
Falco, her hair very boyishly cut and parted, makes a complete break from Carmela in what's billed as a "dark comedy" but has more meat on it than that. Jackie's a taskmaster without being an out-and-out prick about it, particularly during exchanges with impressionable first-year nurse Zoey Barkow (wonderful work by newcomer Merritt Wever).
"I don't like chatty," she informs the kid. "I don't
do
chatty. I like quiet. Quiet and mean. Those are my people."
Jackie doesn't quite mean that, and Zoey more or less knows it. Not so Dr. Fitch "Coop" Cooper (Peter Facinelli from
Six Feet Under
), the latest young stud doctor to sometimes make a mess of things at All Saints. He also has a penchant for grabbing women staffers' breasts and blaming it on occasional flare-ups of his Tourette's Syndrome.
"I've seen hundreds of you jerk-offs blow through these doors," Jackie informs Cooper while upbraiding him for a costly patient mis-diagnosis. But Cooper gradually emerges as more than a one-note, vainglorious screw-up. And Jackie is professional enough to tell him that.
The series has another delicious character in veteran Dr. Eleanor O'Hara (Eve Best). She's a self-absorbed, materialistic Brit who's also Jackie's best friend and lunch companion at various upscale restaurants at which the doc presumably always buys. There's also ER administrator Gloria Akalitus (Anna Deavere Smith), a fire-breather who's more than a little too cartoonish during the course of the first six episodes.
Episode 6 so far is the best of all. It features a terrific guest performance by Judith Ivey as a profane, cancer-ridden, former battle axe nurse who wants Jackie's help in dying. Blythe Danner and Swoosie Kurtz also appear in this half-hour as Cooper's lesbian mothers.
Each episode is a little slice of life -- or death -- while also advancing the story of Jackie's very unkempt personal travails. Paired with
Weeds
, whose Season 5 premiere precedes it,
Nurse Jackie
gives Showtime another upgrade in its persistent battle to someday upstage HBO. This is the series that might finally put it over the hump at Emmy Awards time.
Nurse Jackie
really is that good. And as these first six episodes show, it keeps getting better.
GRADE:
A