Midnight, Texas gives NBC a sure-footed supernatural offspring from the author of True Blood
07/20/17 09:20 AM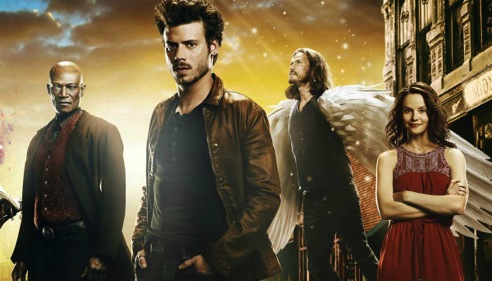 Mixing/matching the "normal" and paranormal in Midnight, Texas.
NBC photo
Premiering:
Monday, July 24th at 9 p.m. (central) on NBC
Starring:
Francois Arnaud, Parisa Fitz-Henley, Dylan Bruce, Arielle Kebbel, Peter Mensah, Jason Lewis, Sarah Ramos, Yul Vazquez, Joanne Camp
Produced by:
Monica Owusu-Breen, David Janollari
By ED BARK
@unclebarkycom on Twitter
HBO's
True Blood
has bled out, but the author whose books inspired it has gotten another network to bite with her latest other-worldly mash-up.
NBC's
Midnight, Texas
, set in a one-horse town without any horses, features a psychic, a vampire, a witch, a shape-shifter, a gay "fallen angel" with wings at the ready and -- ooh, scary -- a talking cat with a scratchy Southern twang. A few seemingly basic human beings also are part of the populace.
Charlaine Harris started all of this in 2014 with
Midnight Crossroad
before following up with
Day Shift
and
Night Shift
. All are set in remote Midnight, where those with something to hide or run from seek to all get along with a minimum of mayhem.
It's quite a jumble, and the premiere episode is just that in the early going. Brace yourself for a whirl of out-of-body experiences and character introductions before and after put-upon seance maestro Manfred Bernado (Francois Arnaud) relocates from Chicago to Midnight at the advice of his dead/undead grandma Xylda (Joanne Camp). She sees Midnight as a safe haven. He's not so sure.
Most of this otherwise occurs with next to no context in the early going. This sorely tempted your friendly content provider to do a one-and-done rather than brave the first six hours made available for review. But the special effects were suitably impressive. And by end of Monday's opener, things begin to get clearer before
Midnight, Texas
starts improving with age.
The series also sports perhaps the most attractive cast of the year, with an array of chiseled muscles, shapely figures and fashion model faces. But these denizens also are high on basic appeal, particularly the sexy, interracial couple of retooled vampire Lemuel (Peter Mensah from
True Blood
, Starz's
Spartacus
) and "freelance hit woman" Olivia (Arielle Kebbel).
Affixed with piercing blue eyes and charisma aplenty, Lemuel initially tells newcomer Manfred, "I live under the pawn shop, work the night shift." Olivia lives with him, but without any gnaws from Lemuel. Instead he somehow soothes and recharges her with hands that send Olivia into ecstasy and beyond. Otherwise she's a pistol, whether brandishing one or cracking wise.
Let's meet the other principals.
Emilio (Yul Vazquez) is a vexed, waxen-faced preacher who fastidiously tends to his church's pet cemetery while bedeviled by his inability to stop turning into a killer tiger when darkness falls. Therefore he spends nights in a chained-up storm cellar, but is inadvertently freed in an Episode 2 that has both lethal consequences and some standout visual gymnastics.
Fiji (Parisa Fitz-Henley) is a goodly witch whose kitty, Mr. Snuggly, occasionally voices his thoughts. She'd very much like to be more than best friends with hunky Bobo (Dylan Bruce), a pawn shop owner who's plenty tough but also sensitive. Perhaps inviting him over for dinner will do the trick.
"I love your shepherd's pie," Bobo assures her in Episode 4.
"I know," she says, smiling both winningly and suggestively. Let freedom ring in NBC's broadcast standards department.
A repressed human waitress named Creek (Sarah Ramos) finds she has similar designs on Manfred, who's ready to roll on that front. But can their growing attraction keep him in town? Don't be silly. Of course it can.
There's also a not so everyday Joe (Jason Lewis), who fears that being an earthbound angel at some point will trigger an all-out battle for survival with so far repressed underground "demons." But the "veil" is fraying and cracks in the ground have begun to appear. Winter isn't necessarily coming, but a full-scale war looms. Joe also frets about the safety of his live-in male partner Chuy (Bernardo Saracino).
Midnight, Texas
otherwise offers ample side trips, including a murder mystery that isn't solved until Episode 6. There's also a battle for vampire supremacy in Episode 3, when a gang led by the cutthroat Zachariah arrives very unexpectedly. But Lemuel is strongly inclined to give him a second chance because the two of them go way back. And once upon a time, Zachariah saved his life. It's the only episode so far with a flashback to the deep past.
A killer succubus in the form of a busty blonde seductress serves as the central dilemma in Episode 4 before the following, very eventful hour features two full-blown confrontations, one with the recurrent, marauding racist biker gang, Sons of Lucifer.
So there's a lot to digest here on a network whose summertime ratings so far have been propelled by "reality-competition" series such as
America's Got Talent, World of Dance
and
American Ninja Warrior
.
Will viewers respond to a bold new series that goes by the script? Or is
Midnight, Texas
fated to play to relatively empty houses? It's been a long time in coming -- too long, perhaps. But your patronage is encouraged for a surprisingly assured supernatural saga with at least a little something for everyone, plus non-stop eye candy for one and all.
GRADE:
B+
Email comments or questions to:
unclebarky@verizon.net