Dwindling supplies of scripted series put the major broadcast networks in various states of disrepair
01/21/08 10:25 AM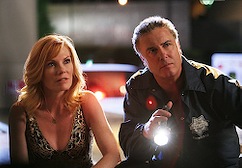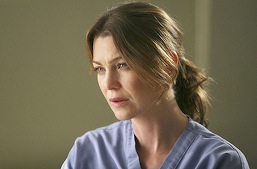 Running on empty: CSI: Crime Scene Investigation and Grey's Anatomy are both out of new episodes as the Feb. "sweeps" nears.
By ED BARK
Negotiators for striking writers and major studios are set to meet again this week in hopes of ending a walkout that began on Nov. 5 and since has severely dented prime-time TV schedules.
Hopes are high following last week's tentative settlement between directors and studios. But even with a quick resolution, it will be at least until spring before new episodes are ready to roll on established hits such as ABC's
Grey's Anatomy
and CBS'
CSI: Crime Scene Investigation
.
The New York Times
has a
good article and accompanying chart
on what's left in the tank at the halfway point of the 2007-08 TV season. As previously noted in these spaces, Fox is by far in the best shape with
American Idol
, the Feb. 3rd Super Bowl, full-season supplies of its Sunday night cartoons and fewer prime-time hours to program than its rivals.
Here are thumbnail sketches of the haves and have nots in the scripted series realm:
FOX
24
is on indefinite hold, and star Kiefer Sutherland was just released from jail Monday (Jan. 21) after serving a 48-day sentence on a DWI conviction.
In its place, though, Fox has new episodes of the action hit
Terminator: The Sarah Connor Chronicles
. It's scheduled to run on Mondays until a two-hour March 3rd season finale.
Prison Break
, serving as
Terminator
's Monday night running mate, has four new episode left.
The Simpsons, Family Guy, King of the Hill
and
American Dad
all have enough new episode to take Fox into the May "sweeps."
House
has three unseen episodes remaining, including a post-Super Bowl outing on Feb. 3.
Also in the supply shed: Four new episodes of
Bones
and two more of the Kelsey Grammer/Patricia Heaton sitcom
Back to You
.
ABC
It's exhausted its supply of new episodes of
Grey's Anatomy, Desperate Housewives, Private Practice
and
Pushing Daisies
. And
Ugly Betty
will be out of fresh shows after this Thursday's new hour.
Boston Legal
still has three first-run episodes available, as does
Samantha Who?
. Down to two is
Brothers & Sisters
.
ABC's biggest remaining playing card is
Lost
, which will begin an eight-episode run on Jan. 31st. The network also has holdover new episodes of drama duds
Big Shots, Dirty Sexy Money, Men In Trees
and
Cashmere Mafia
.
On the comedy front, you're welcome to fresh product from
According to Jim, Notes From the Underbelly, Carpoolers
and
Cavemen
.
CBS
Two of its three
CSI
hits --
Crime Scene Investigation
and
CSI: Miami
-- are down for the count. But
CSI: NY
still has two new hours left.
Also out of ammunition:
Without A Trace, Numb3rs, The Unit, NCIS
and
Ghost Whisperer
. Crime-driven "procedurals"
Cold Case, Criminal Minds
and
Shark
each have one new episode left.
CBS does have a new seven-episode arc of
Jericho
due on Feb. 12. And on Feb. 4th, midseason returnee
The New Adventures of Old Christine
will be matched with the premiere of fellow sitcom
Welcome to the Captain
. Also, the edited broadcast premiere of sister network Showtime's
Dexter
is set for Feb. 17th.
Out of new laughs are
Two and a Half Men, Rules of Engagement, How I Met Your Mother
and
The Big Bang Theory
.
NBC
Heroes, ER
and the first-year drama
Life
have nothing new to offer. Nor do
My Name Is Earl, The Office
or
30 Rock
. And the network seems to have no interest in burning off any remaining new episodes of
Scrubs
.
The freshman comedy-drama
Chuck
is down to two unseen episodes, both airing this Thursday, Jan. 24.
Bionic Woman
and
Journeyman
both are out of production and presumed dead.
The Peacock has seven new episodes of
Medium
remaining, a quartet of first-run
Friday Night Lights
hours and enough yet-to-be-seen
Law & Order
episode to last through spring. Its running mate,
Law & Order: Criminal Intent
is new only if you haven't seen the episodes shown earlier this season on NBC Universal cable arm USA.
Law & Order: SVU
is fresh out of first-run hours.
Las Vegas
will have new episodes through February. And the new drama series
Lipstick Jungle
is set for a Feb. 7th premiere. There's also the coming-of-age drama
Quarterlife
, whose Internet mini-episodes will be stitched into one-hour increments, starting on Feb. 18th.
And if you haven't yet seen USA's
Monk
or
Psych
, they're coming in March to NBC.