Another Marvel to behold in Fox's The Gifted
10/02/17 04:07 PM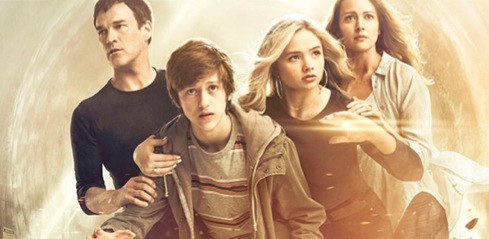 Mutant kids cause major problems for their parents in The Gifted
. ABC photo
Premiering:
Monday, Oct. 2nd at 8 p.m. (central) on Fox
Starring:
Stephen Moyer, Amy Acker, Natalie Alyn Lind, Percy Hynes White, Sean Teale, Jamie Chung, Coby Bell, Emma Dumont, Blair Redford
Produced by:
Bryan Singer, Matt Nix, Lauren Shuler Donner, Simon Kinberg, Jeph Loeb, Jim Chory
By ED BARK
@unclebarkycom on Twitter
Fox gets its Marvel on for the first time with
The Gifted
, which jilted North Texas after the pilot and fled to Atlanta.
Marvel's big on fleeing anyway. Some nefarious agency or police force invariably is hunting down a new batch of misunderstood mutant fugitives. So the premiere of
The Gifted
begins with a chase scene that acquaints viewers with another batch of powers vs. powers that be.
One of the runaways, Polaris/Lorna Dane (Emma Dumont), is captured and chained at the "Garland Detention Center." It's the only remaining North Texas reference or remnant, with the opener otherwise scrubbed clean of its initial origins after Fox opted to shoot the rest of the series in tax-friendlier Atlanta and environs. (FYI, Garland also is the world headquarters of unclebarky.com and its mutant purveyor of television news and reviews.)
Summoned to interrogate the insolent Lorna is Reed Strucker (Stephen Moyer), a district attorney's office prosecutor who's main assignment is nailing mutants. It's been a busy day for Reed, who earlier stares down a Belleview Acres High School principal after he and his wife, Caitlin (Amy Acker) are called in to be apprised of their son, Andy's (Percy Hynes White), bullying at the hands of oafish classmates.
"Andy needs help," says Reed. "And if he doesn't get it, I will sue this school into oblivion." OK then.
It turns out that Andy can take care of himself after the bullies drag him into the restroom at a high school dance for a little water torture. When really upset, he hulks out and makes everything around him vibrate and eventually shatter. The only problem is he can't control his rages. But sister, Lauren (Natalie Alyn Lind), unbeknownst to her parents at first, has a handle on her abilities to create force fields that act as barriers. And she's intent on helping her little brother perfect his power, first via a motel vending machine sequence that ends with an amusing little touch.
Let's cut to the bigger chase. The entire Strucker clan is fated to go on the lam after the suitably sinister Sentinel Services, headed by Agent Jace Turner (Coby Bell) begins hotly pursuing them. Can Reed cut a deal with leaders of Atlanta's hidden Mutant Underground? Well, yes. But one of the Struckers is fated to be left behind.
The Gifted
's principal characters also include Eclipse/Marcos Diaz (Sean Teale); Blink/Clarice Fong (Jamie Chung) and Thunderbird/John Proudstar (Blair Redford). With the X-Men having "disappeared," they're left to wing it on their own.
Fox's decently crafted one-hour opener, which will be paired with the returning
Lucifer
, features a nifty action scene involving mechanized creepy crawlies dispatched by Sentinel Services. Look also for a brief Alfred Hitchhock-esque sighting of Marvel godfather Stan Lee. Hint: he'll be walking out of a bar before Reed Strucker walks in.
This latest Marvel concoction is better than ABC's
Marvel's Inhumans
, which launched on Friday of last week. Still, an overall weariness prevails, perhaps even among the most fanatical Marvel diehards. How many times can one drink at this trough of Marvel this/Marvel that on both big and small screens? Fox very much hopes that its maiden whirl with Marvel somehow is only the beginning.
GRADE:
C+
Email comments or questions to:
unclebarky@verizon.net