Fighting crime on CBS: Eleventh Hour is just the latest practitioner
10/09/08 08:30 AM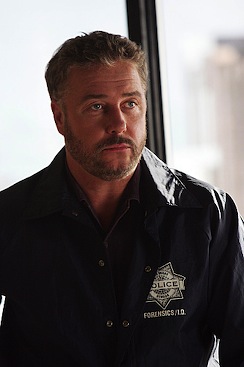 Crime timers: CSI's William Peterson, Eleventh Hour's Rufus Sewell.
Premiering:
Thursday, Oct. 9th at 9 p.m. (central) on CBS
Starring:
Rufus Sewell, Marley Shelton
Produced by:
Jerry Bruckheimer, Jonathan Littman
By ED BARK
Nicely nestled behind the godfather of "procedural crime" series, CBS'
Eleventh Hour
looks like another long-distance runner on a network that shot itself in the foot last season by trying something new.
Its viewers responded by recoiling from the likes of
Cane, Viva Laughlin, Moonlight
and
Swingtown
, none of which resorted to collaring crooks on a weekly basis. So nuts to all that and back to the bread and butter.
Imported from abroad -- but of course --
Eleventh Hour
puts Brit Rufus Sewell in the role played by famed Brit Patrick Stewart in the British original. Sewell's still playing a Hood, but now goes by the first name of Jacob instead of Ian. After all, the latter three-letter moniker might seem just a bit too -- British.
Detroiter Jerry Bruckheimer of course is the executive producer of
Eleventh Hour
. The rajah of this genre (basic weekly crime-cracking without all those messy serial additives) already bosses the three
CSI
juggernauts,
Without A Trace
and
Cold Case
. His lone aberration --
The Amazing Race
-- gives Bruckheimer seven of CBS' 22 prime-time hours. And he's not even breathing hard.
Thursday's premiere of
Eleventh Hour
finds Hood and partner Rachel Young (Marley Shelton) on the track of sinister human cloners. He's the FBI's "special science advisor." She's the muscle, whether kneeing uncooperative suspects in the groin or barking at Hood when he seems to be zoning out.
"Don't push me, Hood," she commands. "I won't let you wear me down like you did the others before me."
The guy always has a lot on his mind, including the observation that "to clone anything takes science stroked gently with artistic hands."
Anyway, the two of them mesh when it counts, as do all of CBS' crime-solving teams. Wrongdoers must be brought to justice within the allotted time limit, no matter how believably the good guys make their cases.
The deductions on
Eleventh Hour
seem somewhat more grounded than those on CBS' new
The Mentalist
, where the color of one's tie can be clear, incriminating evidence in the eyes of cocksure, pseudo-psychic Patrick Jane.
That show's already a ratings hit, though. So really, what's the dif?
Grade:
C+
A REALLY BIG SHOW
Thursday's most-watched attraction won't be any of the night's new or returning series. It'll be
CSI: Crime Scene Investigation
, which begins its ninth season with a strikingly powerful and compelling episode.
At issue is the shooting of forensic investigator Warrick Brown (Gary Dourdan), left to die in the arms of mentor and role model Gil Grissom (series star William Petersen).
The pursuit of his killer, overlaid with the grief of Brown's fellow team members, make this an indelible, riveting hour. At its core is Petersen, who will be leaving
CSI
early next year under his own power and by his own choice. Laurence Fishburne then will join the series as a new character.
Petersen is very much the driving force tonight, particularly during the episode's opening and closing segments. He's never won an Emmy (or even a nomination) as Grissom, an essentially stoic character whose emotions are mostly kept in check.
This is an exception, and Petersen's performance is well beyond exceptional. For him, that's probably reward enough. But some way, somehow, his body of work on
CSI
should be recognized beyond that.