Knuckleheads unite: The Three Stooges movie is our answer to those Sex and the City gal pal outings
04/12/12 03:22 PM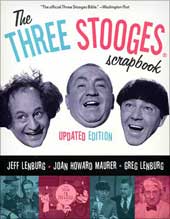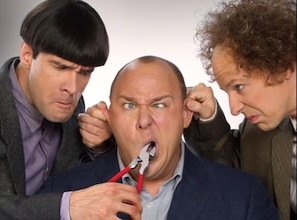 By ED BARK
Will hordes of reasonably able-minded men be trekking to theaters this weekend to see our version of
Sex and the City
?
That would be
The Three Stooges
feature film, whose promotional campaign even includes an ad urging women to enjoy a pampered day at home or elsewhere while their knuckle-dragging spouses and boyfriends head off to this year's ultimate anti-chick flick.
It's no coincidence that a lot of these commercials have been running during pro baseball and basketball games, whose audiences tend to number a lot more men than women. Moe, Larry and Curly generally aren't the kinds of guys a gal would like to encounter on a blind date. Or in a house call for a plumbing problem.
The long-in-coming movie stars Chris Dimantopoulos, Sean Hayes and Will Sasso as M, L and C. That's quite a markdown from Benicio del Toro, Sean Penn and Jim Carrey, all of whom dropped out for various reasons. But the Farrelly Brothers (
Dumb and Dumber, There's Something About Mary
) are still attached as the film's directors and producers.
That's better than nothing, and in an odd way sort of replicates Curly's reasoning as to why he'd rather be burned at the stake than beheaded. A hot steak is better than a cold chop, he deduced.
Formative Barky loved those
Three Stooges
shorts, lovingly presented on Chicago-based WGN-TV during late afternoons. My brothers and I quickly adapted and sometimes even improvised. I remember us bopping each other on the heads with Tootsie Roll Pops, raising small badge-of-honor bumps and greatly aggravating our live-in grandma, who hated "those Stoogies" to her core.
In another Stooge-inspired incident, a porcine kid belted a home run against my brother Jim's elementary school baseball team. As he rounded the bases, he went "Woo woo woo woo" all the way home -- just like Curly did. I swear this is true.
In tandem with the big movie release, Chicago Review Press has published an updated edition of
The Three Stooges Scrapbook
, an exhaustive, over-sized 356-page compendium that seemingly contains every last speck of information about the trio and its offshoots.
It's billed as a "lovingly assembled tribute," although the book also fully documents the short, tragic and mostly unhappy life of Curly Howard, who died at age 48 in 1952. His oldest brother, Shemp, replaced him, although Curly clearly was irreplaceable. Middle brother Moe Howard continued to dispense most of the on-screen punishment while also keeping The Stooges on track as "the businessman of the team."
Larry Fine played Larry, whose unruly hair withstood being yanked out in clumps by the ever-aggravated Moe. I'm afraid that made me laugh the most. Although I also grew to like Shemp well enough, particularly when he went "Me be be be be" -- or whatever the hell that was. Hey, "Nyuk, nyuk, nyuk, nyuk" was a damned tough act to follow.
A made-for-TV movie about the Stooges, produced by Mel Gibson, preceded the big-screen version almost 12 years ago to this day. Michael Chiklis played Curly en route to his signature role as polar opposite Vic Mackey on
The Shield
. And Evan Handler donned a frizzy wig as Larry several years before becoming a recurring character on
Sex and the City
. It wasn't exactly a laugh riot, though, with a broke, beaten-down Moe (Paul Ben-Victor) trying to figure out how to pick up the pieces after the Stooges' heyday had passed. Flashbacks ensued.
The new Stooges movie, featuring cameos from the likes of Larry David, Jane Lynch, Jennifer Hudson, Sofia Vergara and Nicole
"Snooki" Polizzi, is intended to be a big guffaw from start to finish. And if it's not, I'm determined to consider it time well spent anyway.
Homer Simpson would agree. And he won't be taking Marge.