New cast of Dancing with the Stars has a spiked heel in Nancy Grace
08/30/11 05:54 AM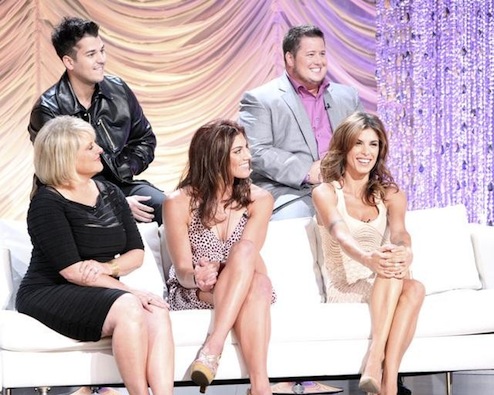 Dancing with the Stars''s latest celebs include Nancy Grace (bottom left) and Chaz Bono (upper right). Kickoff is on Sept. 19th. ABC photo
By ED BARK
After many years of pronouncing defendants guilty before the rendered verdicts, brawling
Nancy Grace
will face judges and a jury of home viewers on the 13th edition of ABC's
Dancing with the Stars
.
The dagger-tongued, corkscrew-mouthed host of HLN's weeknightly
Nancy Grace
headlines a dozen new celebrities announced live Monday night during breaks from the network's
Bachelor Pad
.
Grace strode onstage in a black dress and her best approximation of a big smile. At a subsequent mini-"press conference," a sycophant from ABC's owned-and-operated New York TV station asked her if she'll feel more pressure delivering the news or dancing in pursuit of a mirror ball trophy.
"I think it will probably be a lot easier to report on the live news than to
be
the live news," she said with a thin smile. "Such as fallin' on your booty. So let's try to avoid that."
But millions may be rooting for a rear end collision when Grace and her pro partner dance either the Cha Cha Cha or the Viennese Waltz on the hit show's Sept. 19th opening night. Former attorney Howard Cosell attracted legions of love-haters on ABC's
Monday Night Football
, but this ex-prosecutor may well be in his league. Then again, critiquing her performances won't be any picnic for lead judges Len Goodman or Bruno Tonioli. Grace's glare is capable of melting cast iron at 20 paces. And her verbiage can be a heat-seeking missile.
OK, we've had our fun. And there also are some other intriguing contestants, including
David Arquette
(who remains very publicly separated from Courteney Cox) and LGBT (Lesbian Gay Bisexual Transgender) rights advocate
Chaz Bono
, who grew up to be a rather different only offspring of Sonny and Cher.
Iraq War veteran
J.R. Martinez
clearly looks like the competitor with the most built-in rooting interest. He still bears the visible scars of his 2003 combat wounds after undergoing 33 different surgeries. Martinez since has toured the country as a motivational speaker and joined the cast of ABC's
All My Children
as a combat veteran.
A likely early favorite to win it all -- and succeed Pittsburgh Steelers receiver Hines Ward -- is U.S. women's national soccer team goalie
Hope Solo
. An athlete or two invariably make
Dancing
's Final Four, and Solo looks like a much better bet than fellow contestant
Ron Artest
, the ever-problematic Los Angeles Lakers forward who apparently is banking either on a continued NBA lockout or an early eviction. In June he filed a petition to legally change his name to Metta World Peace. But can he do the Samba?
Rounding out the field are:
Talk show host/actress
Ricki Lake
.
Kardashian throwaway
Rob Kardashian
.
Reality star/actress
Kristin Cavallari
.
Model
Elisabetta Canalis
.
Stylist
Carson Kressley
.
Singer
Chyna Phillips
, daughter of John and Michelle Philllips of The Mamas and the Papas.