NBC rebuilds Thursdays, accentuates star power in new fall schedule
05/13/13 05:44 AM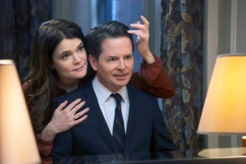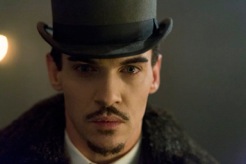 Michael J. Fox as news anchor; Dracula star Jonathan Rhys Meyers.
NBC photos
By ED BARK
@unclebarkycom
Returning to the network where he emerged as a major star more than 30 years ago, Michael J. Fox is the big ticket item on a new NBC prime-time lineup laden with fellow familiar TV faces.
Fourth in total viewers and No. 3 among advertiser-prized 18-to-49-year-olds, the Peacock is adding three new comedies and a like number of dramas this fall while saving 11 more series for later debuts. Besides Fox, autumn includes new vehicles for Sean Hayes, James Spader, Blair Underwood and Jonathan Rhys Meyers.
In late night news, NBC also announced, as expected, that
Saturday Night Live
mainstay Seth Meyers will take over for Jimmy Fallon early next year when Fallon replaces Jay Leno as host of the still No. 1
Tonight Show
.
NBC had surged to the top last fall among 18-to-49-year-olds, largely on the strength of
Sunday Night Football
and
The Voice
. But without the NFL and during an extended layoff for
The Voice
, the network plunged into a ratings free fall.
The four comedies NBC introduced last fall --
Go On, The New Normal, Guys with Kids
and
Animal Practice
-- have all been canceled. Other casualties include
Whitney, Up All Night, Rock Center with Brian Williams, 30 Rock, 1600 Penn, Deception, Do No Harm, Smash, Ready For Love, Fashion Star
and
The Office
, which as previously announced will end its long run with a Thursday, May 16th finale.
The fates of Donald Trump's
Celebrity Apprentice
and
Hannibal
will be announced in "the next few weeks," NBC says.
Community
, although renewed for a fifth season, does not yet have a spot on either NBC's fall or midseason schedule.
Only two of the current season's freshmen series,
Revolution
and
Chicago Fire
, are officially graduating to sophomore years. Thursdays, not that long ago an impregnable stronghold for NBC, will house all three new fall comedies, a transplanted
Parenthood
and returnee
Parks and Recreation
in the leadoff spot.
Here are the six fall newcomers:
The Michael J. Fox Show
(comedy) -- Fox's
Family Ties
, launched in fall 1982, became a Thursday night powerhouse for NBC after being slotted behind
The Cosby Show
two seasons later. Now he's back on that night as New York news anchor Mike Henry, who had left the business for five years to spend more time with his family while undergoing treatment for Parkinson's Disease (which Fox has in real life). The boss who coaxes him back onto the air is played by Wendell Pierce of
Treme
and
The Wire
.
Sean Saves the World
(comedy) -- Sean Hayes, who also came to fame on Thursdays as the scene-stealing second banana on
Will & Grace
, will be back in those surroundings as the Fox show's lead-in. He plays a divorced gay dad whose teen daughter moves in with him and gives the old topsy turvy to both his personal and professional life. The requisite "pushy" mom is played by Linda Lavin of
Alice
fame.
Welcome to the Family
(comedy) -- It's a cross-cultural collision course when the parents of a budding college student learn she's pregnant. The teen father, who's Hispanic, gets this news via a text message while delivering his high school's valedictorian speech. "What follows is a crash course in cultural blending," says NBC. Stars include Mike O'Malley (
Glee
), Richard Chavira (
Desperate Housewives
) and Mary McComack (
In Plain Sight
).
Ironside
(drama) -- Having struck out with recent "re-imagined" re-dos of
Knight Rider
and
Bionic Woman
, NBC takes another shot with an update of this old Raymond Burr crime-stopper. Blair Underwood (
L.A. Law, In Treatment
) is tough guy Robert Ironside, whose wheelchair won't stop him from solving New York's "most difficult and notorious crimes." He has help from a "handpicked team of specialists" who'd better "stay on their toes." Because that's the way gruff, demanding Ironside rolls.
Dracula
(drama) -- Jonathan Rhys Meyers, who had a distinctive run as Henry VIII on Showtime's
The Tudors
, is the latest to have a go at the world's most famous fictional blood-sucker. The series is set in late 19th century London, with Dracula posing as an American entrepreneur intent on introducing modern science to Victorian society. He sill can't withstand the sun, though.
The Blacklist
(drama) -- James Spader (
Boston Legal, The Office
) is quickly back in business as the star of NBC's answer to
Homeland
. He plays "Concierge of Crime" Raymond "Red" Reddington, a former government agent turned fugitive who offers to help apprehend the world's most-wanted terrorist. Just one catch: he'll only collaborate with FBI newcomer Elizabeth "Liz" Keen (Megan Boone). Hmm, what's his real game? And might she have some deep, dark secrets of her own?
This is the fall schedule announced by NBC:
MONDAY
The Voice
The Blacklist
TUESDAY
The Biggest Loser
The Voice
Chicago Fire
WEDNESDAY
Revolution
Law & Order: SVU
Ironside
THURSDAY
Parks and Recreation
Welcome to the Family
Sean Saves the World
The Michael J. Fox Show
Parenthood
FRIDAY
Dateline NBC
Grimm
Dracula
SATURDAY
Reruns
SUNDAY
Football Night in America
Sunday Night Football
Hoping to capitalize on the "promotional platform" provided by the Winter Olympics, NBC plans to launch six more new series in midseason. Since schedules are subject to change -- and most definitely will -- we'll just give you the rundowns of the Peacock's post-Olympics half-dozen.
About A Boy
(comedy) -- Drawn from the Nick Hornby novel and the 2002 Hugh Grant movie, it stars David Walton (
Bent
) as man-child Will Freeman, who's independently wealthy after writing a big hit song. But then a single mom named Fiona (Minnie Driver) moves next door with her "oddly charming" 11-year-old son Marcus (Benjamin Stockham). Complications ensue.
The Family Guide
(comedy) -- J.K. Simmons (instantly rebounding from ABC's almost instantly canceled
Family Tools
) plays a soon-to-be-divorced blind man whose wife, Joyce (Parker Posey), is a free spirit who smokes a pipe. Jason Bateman also stars, off-camera, as the adult narrative voice of their 11-year-old son, Henry (Eli Baker).
Crossbones
(drama) -- Avast mateys, it's 1715 on the Bahamian island of New Providence, where the sinister pirate Blackbeard (John Malkovich) rules over a "rogue nation of thieves, outlaws and miscreant sailors." An assassin is hired to take him out, but that turns out to be not so easy.
Believe
(drama) -- An orphaned girl named Bo (Johnny Sequoyah) is raised by a small group known as the "True Believers." Therefore she can levitate, control nature and even make uncanny predictions. Co-stars include Kyle MacLachlan and Delroy Lindo.
Crisis
(drama) -- The children of D.C.'s elite are on a field trip when their bus is hijacked by a "vengeful mastermind." So how far will their powerful parents go to gain their release? Starring are Dermot Mulroney and Gillian Anderson, who's returning to series TV for the first time since
The X-Files
.
American Dream Builders
(reality) -- Nate Berkus hosts a competition among designers, builders, architects and landscapers. Their challenges are "extreme home renovations." Hasn't this already been done before?
Two more new dramas --
Chicago PD, The Night Shift
-- a comedy (
Undateable
and a pair of reality series (
Food Fighters, The Million Second Quiz
) have been ordered by NBC but don't have homes yet in either the fall or midseason.
And that's a wrap.
Email comments or questions to:
unclebarky@verizon.net