Premiere of The Jay Leno Show mixes Kanye, comedy
09/15/09 12:45 AM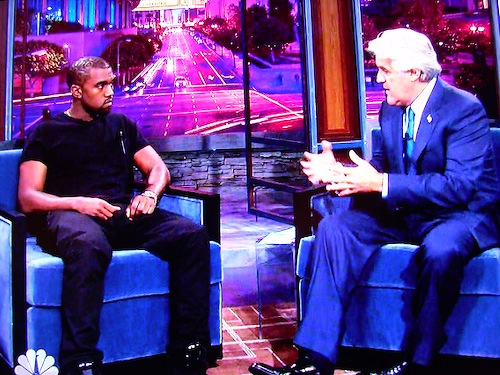 How fortuitous: Kanye West and Jay Leno Monday. Photos: Ed Bark
By ED BARK
Touted incessantly by NBC as "America's favorite TV personality," Jay Leno at last had his first chance to stand and deliver Monday night.
"This is not another annoying promo," he said at the outset of his opening monologue. "This is the actual show."
It's supposed to be largely a chucklefest, a Monday through Friday respite from cares, woes and all those gruesome but still popular crime series that CBS will be sending against
The Jay Leno Show
.
But as luck would have it, an already booked Kanye West was fresh from making an ass of himself at Sunday night's
MTV Music Video Awards
. The entire free world likely knows by now that West took the mike away from "Best Female Video" winner Taylor Swift to tell everyone that Beyonce should have won instead.
Before he performed as scheduled with Jay Z and Rihanna, the foot-in-mouth rapper "wanted to talk," Leno said with all due solemnity. "So please welcome Kanye West."
He got an ovation, of course. And Leno has been this route before, with Hugh Grant on the storied night of July 10, 1995.
That's when the British actor honored a commitment to do Leno's
Tonight Show
after being arrested for soliciting a prostitute on Sunset Blvd. Mega-ratings for Grant's appearance helped
Tonight
build momentum and eventually overtake David Letterman's
Late Show
for the top spot in the late night talk wars.
Leno similarly thanked West for "honoring this commitment," which is ridiculous on the face of it. Seldom does a celebrity get such a quick and easy chance to dig himself out of a hole -- with help from "America's favorite TV personality," no less.
"Have you had a tough day today?" Leno asked.
"It's been extremely difficult," West said before eventually acknowledging that his conduct at the MTV awards "was rude, period."
Leno noted that he had been "fortunate enough" to meet West's late mother a number of years ago.
"What do you think she would say about this?" he asked.
West suddenly was speechless, prompting Leno to touch his knee in sympathy before inquiring more directly, "Would she be disappointed in this? Would she give you a lecture?"
It was all more than a little cringe-worthy, with West finally saying none too convincingly, "I'm just ashamed that my hurt caused someone else's hurt." He then promised to take some time off in an effort to improve himself before Leno thanked him anew and asked, "Are you ready to sing?"
West shrugged in assent before joining Jay Z and Rihanna to perform "Run This Town." Leno of course pronounced it "great."
Monday's exhaustively promoted premiere began, as
The Tonight Show
always does, with a comedy monologue that filled the first eight minutes. Leno is still doing high fives beforehand with demographically desirous younger studio audience members who are herded to the front of his standup perch.
The jokes were mostly OK, and told in Leno's typical machine-gun style. But after a commercial break, the show may have ventured into tune-out territory with an overlong musical comedy segment taped at a car wash. It starred Dan Finnerty of
The Hangover
and Dan Band fame. He's one of the show's many new correspondents, and hasn't yet learned the art of brevity.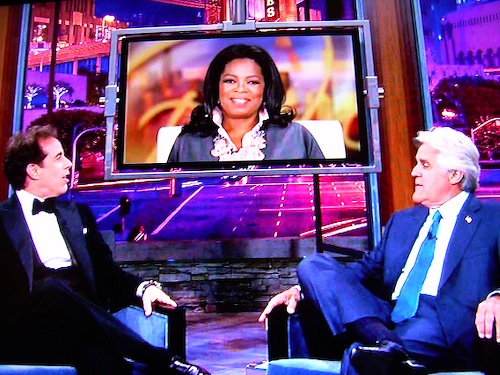 Featured guest Jerry Seinfeld showed up in a tux but left any spontaneity in the closet. His very pre-programmed appearance included a drop-down screen visit by Oprah Winfrey, who as planned paid attention only to Jerry while Jay sat mute.
"I could get Oprah" for a first guest, Seinfeld chastized Leno beforehand. But the whole thing kind of laid there, even though the opening night audience was very easy to please. Jerry and Jay even got separate ovations after noting their respective marriages of 10 and 29 years.
The night's funniest bit was another staple of Leno's old
Tonight Show
-- fake edited interviews with newsmakers. In this instance, he grilled President Obama, at one point asking him how he thought
The Jay Leno Show
would fare.
"I guarantee you this will be pronounced dead," Obama said, eventually prompting Leno to shout, "You lie!"
All in all it was a halfway passable first night, with West as second-half bait and Leno's climactic "Headlines" segment as further impetus to keep watching all the way up to late night local newscasts, which begin immediately after the host urges viewers to stay tuned.
On Monday night in D-FW, the newscast and its teases were a whole other story, which you can
read here
.