Season 2 of History's Vikings: winning the battle to become one of TV's better dramas
02/27/14 02:31 PM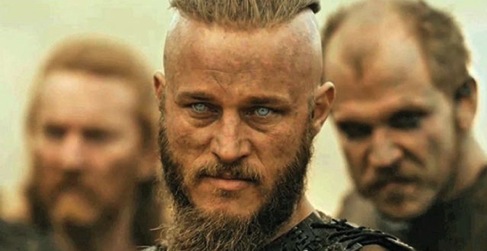 Ragnar Lothbrok (Travis Fimmel) will win any and all stare-downs. He again leads the charges in Season 2 of Vikings. History photo
By ED BARK
@unclebarkycom on Twitter
Travis Fimmel has taught his pupils exceedingly well.
Strikingly blue and thoroughly impenetrable, they pierce the screen like arrows in the hearts of knaves. History channel's blood-lusty
Vikings
is back. But Fimmel's pillaging Ragnar Lothbrok also can still be seen as a noble avenging angel if you squint just a bit.
Season One was a pleasant surprise in its ability to vividly re-create this 13th century world of majestic battleships, crudely adventurous men and mostly willful women. Season 2 (
firing up Thursday, Feb. 27th at 9 p.m. central)
) is notably improved on every level, with major developments coursing through the first four episodes made available for review. Might
Vikings
rival HBO's
Game of Thrones
at some point? That's asking a lot, but all arrows are pointing upward at this point.
Vikings
ended last season with Ragnar's second fiddle warrior brother, Rollo (Clive Standen), in an act of full betrayal. He had sided with Jarl Borg (Thorbjorn Harr), nefarious chieftain of Gotaland after King Horik (Donal Logue) had refused to cede him the land he wanted. Ragnar remains part of Team Horik. And Thursday's Episode 1 opens with a furious battle between the two sides.
Ragnar then returns back to his home turf of Kattegat, telling wife Lagertha (Katheryn Winnick), "I am weary. I am blood-sickened. And that is the truth." Let's not hold him to that.
Vikings
fans also know that Ragnar succumbed to a one-night stand with Princess Aslaug (Alyssa Sutherland) last season. Let's just say that ye olde condom hadn't yet been invented back then. So there are some lasting ramifications to Ragnar's indiscretion. So much so that Episode 1 ends with a heart-rending separation before next week's Episode 2 springs four years into the future. Enough said.
Spooky shipbuilder Floki (Gustf Skarsgard), scheming but decent-hearted Siggy (Jessalyn Gilsig), the deformed Seer (John Kavanagh) and kidnapped Anglo-Saxon monk Athelstan (George Blagden) also return as series regulars. So does Nathan O'Toole as Ragnar's devoted son, Bjorn -- but only for Episode 1. A rather jaw-dropping growth spurt in upcoming hours requires that the role be inherited by an older lad -- namely Alexander Ludwig.
Season 2's major new character is Wessex, England's King Ecbert (Linus Roache), who's not at all a merry old soul. He very much enjoys his warm soaks, though -- and occasional blood baths when necessary.
There will be 10 episodes in Season 2, same as last year. But
Vikings
moves at a crisper pace this time while also feeling more epic. The bloodletting and other acts of violence for the most part remain tempered compared to
Game of Thrones
. Still, be prepared for some blood-curdling, religious-themed acts of cruelty in both Episodes 3 and 4.
Fimmel's Ragnar isn't exactly impervious to it all. He's capable of shedding tears through those otherwise steely blues. And as a farmer by trade, he wouldn't mind getting back to the land before Valhalla beckons. His compassion still has more than a few limits. But it's not hard to care for this character -- as well as those the very closest to him. Except maybe for Floki.
Whatever becomes of Ragnar,
Vikings
has emerged in its second season as a series of appreciably higher quality. Its characters and storytelling, all within a world quite unlike any other on the TV landscape, have gone far beyond the cardboard stage. This is a first-rate drama series that stands rock steadily on its own.
GRADE:
A-minus
Email comments or questions to:
unclebarky@verizon.net