Price check: Drew Carey's on the money
10/12/07 03:47 PM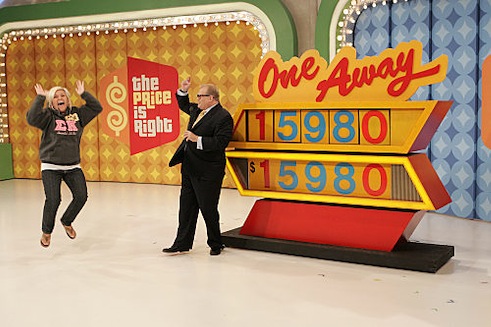 As you can see, the contestants still go nuts. Very nuts.
By ED BARK
Carey on.
Absent Bob Barker for the first time in 35 years,
The Price Is Right
begins putting its money on a chunky, bespectacled newcomer Monday (10 a.m. central time on CBS).
It looks like a wise investment. Drew Carey may lack Barker's matinee idol looks, but otherwise has the old master's common touch. He's already shown as much during summertime's
Power of 10
, which will return to CBS later this season. Now he's amid the even gaudier surroundings of a landmark game show whose contestants run down aisles, jump up and down, and play Plinko among other tests of dollars and sense.
"Welcome to
The Price Is Right
, the happiest place on earth," Carey says for openers after some in the audience chant "Drew, Drew!"
He seems a bit nervous and abrupt at first, immediately getting down to the business of bidding on a scuba diving kit enroute to a chance to win a new Jeep. For the record, those are the first two items of many more to come under the new regime.
Not to give away too much, but you'll see an awful lot of winning on Carey's inauguration day. One woman contestant does a cartwheel after taking the stage. Another wears a "Cleveland Rocks" t-shirt in honor of both his old sitcom and hometown.
"I love you, Drew. Thank you," the host is told.
"I like you as a friend," he replies.
Carey doesn't say anything about Barker's legacy, but his closing words are thanks enough.
"Don't forget to keep the pet population down. Spay and neuter your pet," the new host says before signing off.
He's going to be just fine.