No longer a shoe-in: Cuban's Dancing daze is over
10/24/07 01:55 AM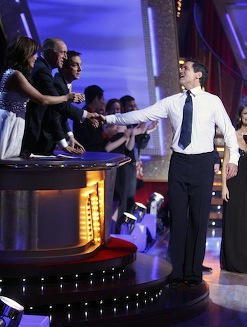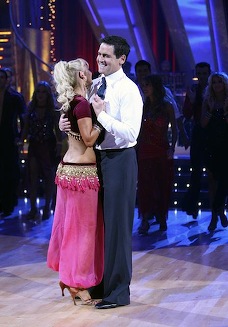 Last handshakes, last dance: A game Cuban's over and out. ABC photos
By ED BARK
Even a previous night's fainting spell by Marie Osmond couldn't keep Mark Cuban's faint hopes alive.
The "bouncing billionaire" found himself dribbling out the clock Tuesday night on ABC's
Dancing with the Stars
. He and picturesque pro partner Kym Johnson became the fifth couple evicted, leaving seven to vie for the show's oddly prized mirror ball trophy.
The Dallas Mavericks owner now can devote more time to pro basketball's hardwoods. His nationally televised costumed drama ended eight nights before the team's Halloween opener.
Cuban always talked a good game and danced gamely as well. But he seemed relieved to be going home after a previous night's intendedly comical samba tied Osmond for the lowest score from
Dancing
's three judges.
"Thank God it's over. Thank God," Cuban appeared to be telling Johnson after they Bottom Two'd it with actress Jane Seymour. The latter was surprisingly in jeopardy, as was high-scoring Melanie "Mel B" Brown the previous week. Now only two men remain to battle the five surviving women celebs.
Cuban sequentially gutted it through the fox trot, mambo, jive, Viennese waltz and samba despite recent hip replacement surgery. By his count he lost about 30 pounds in the process.
"I've gained so many new friends," he dutifully told host Tom Bergeron. "It's just been such an amazing, amazing experience. I wouldn't trade it for the world."
He cast himself as a nerd for his final dance, wearing taped-at-the-bridge glasses and a standard issue white shirt while Johnson made Barbara Eden look like Roseanne Barr in her fetching
I Dream of Jeannie
outfit. They also danced to the evergreen sitcom's theme song, drawing an enthusiastic response from the live studio audience but more clammy reviews from the judges.
Co-host Samantha Harris pronounced them "fantastically entertaining" shortly before Tuesday's vote-off. But fan support couldn't save Cuban this time.
"I feel the pressure I put on myself . . . If I can't out-talent them, I'm going to out-work them," Cuban said in a pre-taped segment. That's pretty much what he said every week en route to outlasting models Josie Maran and Albert Reed, a barely mobile Wayne Newton and frantic dancing boxer Floyd Mayweather.
All in all, that's more than most people expected from Cuban. But in the end he looked a little too much like Erick Dampier in the paint.