Reign in The CW's forecast
10/15/13 03:22 PM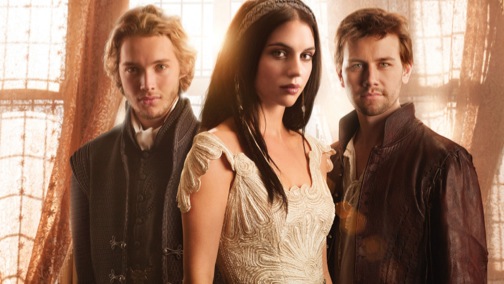 Toby Regbo, Adelaide Kane, Torrance Coombs of Reign. CW photo
Premiering:
Thursday, Oct. 17th at 8 p.m. (central) on The CW
Starring:
Adelaide Kane, Toby Regbo, Torrance Coombs, Megan Follows, Alan Van Sprang, Anna Popplewell, Celina Sinden, Caitlin Stassey, Jenessa Grant, Rossif Sutherland
Produced by:
Laurie McCarthy
By ED BARK
@unclebarkycom on Twitter
Some games of thrones are happening here. Not that The CW's
Reign
otherwise bears any resemblance at all to HBO's graphic and gritty medieval times.
This is a frothy, giggly, historically silly, pop tune-themed trifle, with mid-16th century France as its backdrop. Teenager Mary Stuart (Adelaide Kane), the future Mary, Queen of Scots, has been safely sequestered in a convent while awaiting her destiny. But an attempt to poison her, with a young nun "taster" instead on the receiving end, is proof enough that it's time for a return to the French court where Mary happily spent part of her childhood romping about with Francis the future king (Toby Regbo).
Ah, but Francis isn't quite ready yet. Nor is his scheming mom, Queen Catherine (Megan Follows), particularly after learning from the young prophet Nostradamus (Rossif Sutherland) that marriage to Mary "will cost Francis his life."
Meanwhile, Francis' half-brother Sebastian (Torrance Coombs), better known as "Bash," has his own designs on the comely, spunky Mary. Nefarious King Henry II (Alan Van Sprang), who publicly flaunts his mistress for all to see, is also in no huge hurry to see Francis do his "I do's." But Mary's tee-hee quartet of "Ladies in Waiting" is more than ready to rock. Says one: "Alliances can shift. Before they do, Mary needs to win the king's heart."
Reign
is never more ridiculous than at a wedding reception for another royal. Mary impulsively orders her four ladies in waiting to dance with her. And so they do, jumping around to a pop tune rather than a minstrel's strum. Perhaps there's an invisible DJ spinning songs somewhere? Hey, how about the hip-hop mix version of "Old King Cole Was a Merry Old Soul?" Love that one.
Thursday's premiere episode also includes a scene in which Mary is mysteriously warned not to drink the wedding reception wine. And her loyal dog, Sterling, has been spooked by something in the woods.
"We are disposable, all of us," Mary informs her ladies in waiting, one of whom has just learned that her beau has just become very indisposed. Another pop tune tops it all off.
Reign
at least is picturesque at times, even if its history is mostly bunk and determinedly so.
"I for one am thankful for a certain amount of creative license," Coombs (the actor who plays "Bash") told TV writers during CW's interview session for
Reign
. "Because historically I don't exist."
In
Reign
, though, Bash is known for having a "terrible reputation with women. He knows no bounds."
Just so long as he doesn't make his way into too many real-life high school history classes as the secret father of Mary's hard-charging son, "Lash." But
Reign
hasn't gone quite that far -- yet.
GRADE:
C-minus
Email comments or questions to:
unclebarky@verizon.net