Showtime's Secret Diary of a Call Girl neither takes off -- or takes off
06/16/08 11:29 AM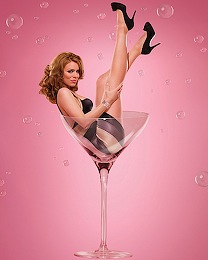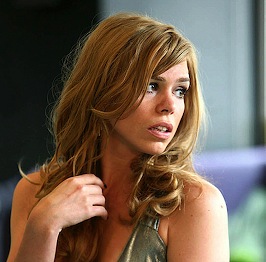 Billie Piper precariously straddles two worlds as Belle/Hannah.
Premiering:
Monday, June 16th at 9:30 p.m. (central) on Showtime
Starring:
Billie Piper, Cherie Lunghi, Iddo Goldberg, Toyah Willcox, Stuart Organ
Created by:
Lucy Prebble
By ED BARK
The title suggests a considerable baring of the flesh. Not so.
Showtime's
Secret Diary of a Call Girl
, premiering Monday after previous exposure in the United Kingdom, is sexually charged but otherwise notably chaste.
Previous Showtime series, including
The Tudors, Californication
and
The L Word
, have been explicit in both words and deeds.
Call Girl
, with its first eight episodes written by women, is more likely to fleetingly show male clients' backsides than star Billie Piper's (
Dr. No
) private eyefuls. Turnabout is fair play perhaps, although a series of this sort might be expected to be more in sync with its suggestive title on a premium pay network without advertiser limitations.
Piper, living in two worlds as Belle the whore and Hannah the sister/daughter, has most of her assignations while clothed. Even while in a tub, she chastely covers her breasts. The series otherwise finds her frequently talking to the camera or narrating her various observations on life and pay-for-play sex. The language can get explicit even even as the visuals shy away.
"I love London," Belle says for openers. "I love its rudeness, its lack of community, its impatience."
Her character is drawn from the
real-life diaries
of "Belle De Jour," who like "Gossip Girl" blogs anonymously. Frankly, she's been a bit of a slacker lately. Her June 16th post is the first in five months.
The TV episodes run just 22 minutes apiece but still seem to go on a bit much. The first three put Belle in some perspective without making her all that compelling. We learn that she doesn't drink on the job, uses men's deodorant but not perfume, has a friend, Ben (Iddo Goldberg), who's apparently clueless about her profession and has "never been a very good girlfriend in real life."
When on assignment, "the perfect partner is one where I never have to be myself."
In that respect, she's deft at pleasing a cumbersome bloke who fantasizes about having sex on a farm. But in Episode 2, Belle quickly grows impatient with a client who takes her to a "prestigious adult party" but doesn't want to participate until she grows "desperate" to have him off-site.
Piper resembles a vintage Bardot, which is a nice start. But
Call Girl
otherwise seems bottled up, thinking itself to be far more intoxicating than it really is.
The first three episodes also provide glimpses of Belle's imperious madame, Stephanie (Cherie Lunghi), and a sister who's just delivered a baby boy while mom and dad (Toyah Willcox, Stuart Organ) display disparate degrees of interest.
The series supposedly was a ratings hit in the UK -- isn't everything? -- but might not arouse much interest here. Whatever the case, it's being paired on Mondays with
Weeds
, which returns for a fourth season at 9 p.m. (central).
Californication
, last summer's better suited
Weeds
running mate, is tentatively due sometime this fall.
Grade:
C