Brand X with Russell Brand gives FX its worst show ever
06/27/12 04:03 PM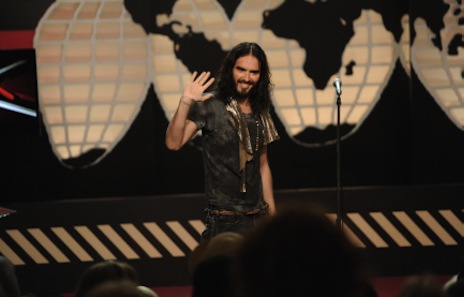 Russell Brand at first taping of his new, nonsensical show. FX photo
Premiering:
Thursday, June 28th at 10 p.m. (central) on FX
Starring:
Russell Brand, with consultant Matt Stoller
Produced by:
Troy Miller, Russell Brand, Nik Linnen, John Noel
By ED BARK
@unclebarkycom
Wow, this won't be lasting very long.
FX probably is already smelling a big stinker in
Brand X with Russell Brand
, which in its opening episode features the shaggy-haired, wild-eyed British actor/comedian flailing about desperately. His principal topic is a public appearance earlier this month with the Dalai Lama.
Airing at 10 p.m. (central) as the caboose of FX's new Thursday comedy block, the half-hour show is being taped just three days before its air dates in the interest of being "extremely topical and relevant to the news and events of the day." So Episode 1 wasn't made available until Wednesday on a password-protected online site.
Charitably put, those poor saps in Brand's dingy-looking studio audience look appreciably more entrapped than entranced. The star of this ill-conceived show, which also features former congressional policy advisor Matt Stoller as a very uncomfy foil, completely fails to get untracked from halting start to grinding finish.
Brand, also known as the pending ex-husband of Katy Perry, can't be expected to divulge chapter and verse about their stormy relationship. But a very labored half-hour on the Dalai Lama just isn't going to cut it. And Perry in fact is in the news this week with the release of her 3-D movie,
Katy Perry: Part of Me
. What's more, the film in part documents her split-up with Brand.
Still, the outwardly daring Brand doesn't go there. Not for a second. Instead his springboard is a headline reading, "Russell Brand boasts about sex life to Dalai Lama." He doesn't name the publication, but it's the
Hindustan Times
, which notes in its story that Brand "bragged how he had won 'Shagger of the Year award' thrice."
Brand instead bitches about how the article says he's 37 years old. And notes how the Dalai Lama briefly pulled on his facial hair. He also calls on the completely out of his element Stoller to throw out some Western culture versions of the Dalai Lama. President Obama, Oprah Winfrey, Mel Gibson, Tim Tebow, Shaquille O'Neal and Charlie Sheen are among those mentioned. None of this works. But how about Moe, Larry and Curly?
Later on, Brand ventures into the studio audience to meet a woman who says her brother was circumcised at age 13. He wonders about anyone "getting his dick cut off in the name of God." An audience squirm seems to be kicking in.
As the closing credits roll, Brand is briefly onstage with a heavy-set woman who's said to have the hiccups. "Big tit hiccup porn," Brand enthuses. It could "make a fortune."
It's the worst new half-hour of comedy since ABC's January premiere of
Work It
, which lasted all of two episodes. Don't be entirely surprised if
Brand X with Russell Brand
crashes with equal speed. FX is known for giving its newcomers a chance to breathe. And a very high percentage of them see second seasons. This show won't be one of them unless a magical, mystical overhaul can be accomplished in a week's time. Either that, or re-title it
The Hatfields & McCoys Present Russell Brand Bombing
.
GRADE:
F