Reviewing Season 2 of Orange Is the New Black -- after viewing all 13 episodes
06/12/14 01:19 PM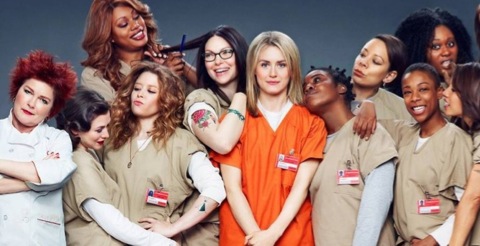 Taylor Schilling & other principals from Orange Is the New Black.
Netflix photo
By ED BARK
@unclebarkycom on Twitter
Doing time with
Orange Is the New Black
means watching all 13 episodes before passing judgment.
Why? Because with Netflix you can. So I've again opted to take the full measure of Season 2 rather than look at the relative handful of episodes earlier made available on a password-protected media site. It's hardly a life sentence, but it does take a little more time with a series that began streaming in full on Friday, June 6th. Mission accomplished as of early Thursday afternoon. And simply put, bravo anew for a serio-comic women-in-prison tale that emerges more full-bodied than its acclaimed Season 1. Series creator Jenji Kohan has outdone herself. And that's not easily done when she's set the bars so high.
Ardent fans of
Orange Is the New Black
likely have already powered their way through en route to a highly satisfying season finale. Still, we'll keep spoilers at a minimum while also divulging some basics.
Season 1 ended with the series' central character, Piper Chapman (Taylor Schilling), furiously pummeling Southern-fried nemesis Tiffany "Pennsatucky" Doggett (Taryn Manning) on the snowy grounds of the Litchfield federal prison.
Season 2 begins with Piper being transported on a "mystery bus" and then a plane to an unknown destination. The continued sharpness of the writing can be distilled into this laconic one-liner from one of the plane's security guards: "Enjoy our in-flight entertainment, which is staring off into space."
Initially sentenced to 15 months for being an international drug mule in the employ of lover Alex Vause (Laura Prepon), Piper worries that her fate is now far worse after the assault on Pennsatucky. But let's get real.
Orange Is the New Black
isn't about to isolate her -- at least not for long -- from the core cast of Season 1. After a complete absence from Episode 2, Piper's back in the fold for Episode 3, subtitled "Hugs Can Be Deceiving."
Not that the new season is Piper-centric. Far from it. A dynamic prison rivalry is set up between hard knocks Galina "Red" Reznikov (more brilliance from Kate Mulgrew) and a new character named Yvonne "Vee" Parker (an equally terrific Lorraine Toussaint). Red and Vee have clashed before during the latter's earlier term at Litchfield. They're soon running rival smuggling operations, with Vee as always wanting to control it all. Much of Season 2 is driven by Vee's manipulations of her new "family" of young black inmates while Red sets up shop in an abandoned prison yard greenhouse that ostensibly is being used for therapeutic gardening by a small group of prison elders.
Season 2 also introduces the newly incarcerated Brooke Soso (Kimiko Glenn), an aggravatingly chatty activist who's initially used as a punching bag even by Piper. Episode 3 has a line that underscores Piper's evolution from prison daisy to hardened con. "I am a lone wolf, Brooke," she declares. "And a vicious one. Don't make me rip your throat out with my teeth." Point made -- and convincingly.
Assistant prison administrator Joe Caputo (Nick Sandow) also comes to the forefront with a substantially bigger role in Season 2. When not chafing under corrupt assistant warden Natalie "Fig" Figueroa (Alysia Reiner), he's playing in a bar band called Side Boob. A cap covers his lousy looking thinning patch of hair, prompting a prison guard to crack, "You look like the gay Edge."
Caputo for the most part evolves into a far more sympathetic figure in Season 2, with his humanitarian gestures serving as a counterpoint to the imperious, power-seeking "Fig." Prison guard supervisor Sam Healy (Michael J. Harney), another holdover from Season 1, also shows some different sides in his ham-handed efforts to redeem himself as a human being. Complicit in Pennsatucky's efforts to liquidate Piper, he's become a would-be benefactor to both of them. In later episodes, his desk has sprouted a "Feelings Jar."
Perhaps you're wondering about last season's breakout prison guard character, the sadistic and grandiose George "Pornstache" Mendez (Pablo Schreiber). On unpaid leave after being set up and then exposed as a sex partner of inmate Dayanara "Daya" Diaz (Dascha Polanco), Pornstache re-emerges briefly at the close of Episode 8. But his "arc" is brief, and it's just as well. The character doesn't fit nearly as well in this new season. So don't get used to him.
Flashbacks to pre-prison days again are deployed in every episode except the last, which runs for an extended 92 minutes. The back stories of Suzanne "Crazy Eyes" Warren (Uzo Aduba), Lorna Morello (Yael Stone) and Rosa Cisneros (Barbara Rosenblat) are especially revelatory. And Rosa, who's dying of cancer, is very much a she-who-laughs-last driving force in the Season 2 finale.
By that time there are ample new possibilities for a Season 3, with the Piper-Alex relationship again swerving onto a new path with help from Piper's former fiancé, Larry Bloom (Jason Biggs), and the new woman in his life.
Orange Is the New Black
remains a vibrantly hued, singular achievement. Darkly dramatic and comedically spiked, it deals in the dehumanization and restoration of both guards and inmates. Racism and long-held racial animosities are also sliced, diced and dissected. And whether the episode subtitle is "Take a Break From Your Values" or "Little Mustachioed Shit," this is a series that continues to work on many levels -- most of them with daunting degrees of difficulty.
GRADE:
A
Email comments or questions to:
unclebarky@verizon.net