Burden of Truth is a Canadian import that viewers of The CW should salute
07/24/18 02:40 PM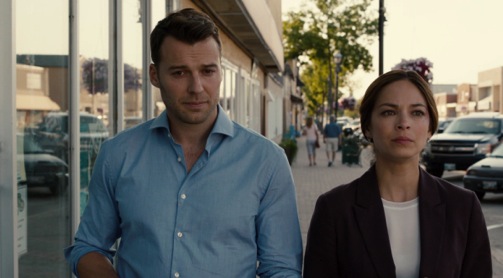 Kristin Kreuk & Peter Mooney lawyer up in Burden of Truth. CW photo
Premiering:
Wednesday, July 25th at 7 p.m. on The CW
Starring:
Kristin Kreuk, Peter Mooney, Alex Carter, Nicola Correia-Damude, Meegwun Fairbrother, Star Slade, Sara Thompson, Anwen O'Driscoll, David Lawrence Brown, Jessica Matten, Benjamin Ayres
Produced by:
Ilana Frank, Jocelyn Hamilton, Linda Pope, Kristin Kreuk, Adam Pettle
By ED BARK
@unclebarkycom on Twitter
The premise is timeworn but the execution, casting and storytelling make
Burden of Truth
a compelling serial drama with a paucity of false steps.
Rather shockingly, it's on The CW, where superheroes and the supernatural have become all-powerful genres. But there's a catch.
Burden of Truth
actually is a product of the Canadian Broadcasting Corporation, and premiered in that neighboring country last January. Aha, so that explains the down-to-earth texture and absence of otherworldly villains and apparitions.
Already renewed for a sophomore year,
Burden of Truth
debuts in these parts on Wednesday, July 25th. The first four of Season One's 10 episodes were made available for review. Bracingly, they're not a sudsy, steamy cauldron of iniquity in the mode of CW's
Dynasty
reboot.
Kristin Kreuk stars as hotshot big-city attorney Joanna Hanley, whose CTS firm is rolling along on the strength of well-heeled clients. She hails from a plain brown wrapper of a small town called Millwood, where there's suddenly trouble afoot after several high school girls shockingly contract a muscular disorder that causes both seizures and involuntary twitching.
Some of the townies are blaming it on the recent HPV (Human Papilloma Virus) vaccinations aimed at preventing cervical, vaginal and other forms of cancers. So Joanna is dispatched to fight an injunction against the mega-pharmaceutical firm that CTS hopes to rope in as a full-time client. She wins her case and then begins a companion effort to avert any lawsuits by offering $50,000 payments to families of Millwood's suddenly very sick.
But something isn't quite right here, of course. Guilt pangs ensue, fueled initially by a hunky, selfless opposing lawyer named Billy Crawford (Peter Mooney), whose "& Associates" is a fiction. Billy envisioned joining a big firm until a wine appreciation course included in the curriculum made him feel like a sellout. So he returned to the land of flat beer and nondescript diner food, which
Burden of Truth
milks a little too hard in his early scenes with Joanna.
"You know you're the bad guy, right?" he informs her. This starts to sink in, as does a sucker punch from a pissed-off female denizen. But the real kill shot is delivered by afflicted student Taylor Matheson (Anwen O'Driscoll), whose father, Ben (David Lawrence Brown), owns Millwood's biggest employer, Matheson Steel.
"Your job is to screw people over," Taylor tearfully tells Joanna. "Good, hard-working people . . . How can you live with yourself?"
So Joanna duly joins the out-gunned resistance and angers her father, David Hanley (Alex Carter), an alpha male at the CTS firm but a dirty word in Millwood. He's been hiding something of major import from his daughter, which makes for a solid companion storyline while Joanna and Billy otherwise keep getting roadblocked in their efforts to make someone pay for the girls' debilitating illnesses.
Billy has an additional personal stake. His sister's daughter, Molly Ross (Sara Thompson), is seeing her talents as a star soccer player being destroyed by the disease. "We're the freaks now. Twitching girls of Millwood," Taylor says in solidarity.
The other pivotal student character, Luna Spence (played very winningly by Star Slade), is both Molly's intimate girlfriend and an eager amateur sleuth for Joanna. Luna's embittered mother, Gerrilyn (Jessica Matten), drops a major revelation in Episode 4. The populous cast also includes high school guidance counselor Diane Evans (Nicola Correia-Damude); Millwood cop Owen Beckbie (Meegwun Fairbrother); and Joanna's CTS firm partner and oddly estranged husband Alan Christie (Benjamin Ayres).
Burden of Truth
could very easily do without him -- and should have.
Protective town officials, ostracism and an increasingly divided community serve as appendages in a multi-layered whodunit/coverup with enough pulling power to endure for the rest of this summer and early fall.
Burden of Truth
is an anomaly for The CW, but a good one to have. In that respect, thanks, Canada. And don't let those high tariffs dissuade you from importing more of the same.
GRADE:
B
Email comments or questions to:
unclebarky@verizon.net