Glee, Mad Men win top TV Globes
01/17/10 11:32 PM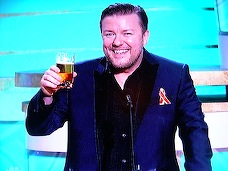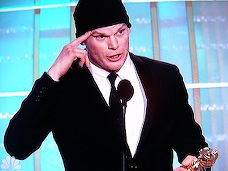 Host Ricky Gervais hoists one and Dexter star Michael C. Hall wins one at Sunday's 67th Golden Globe awards on NBC. Photos: Ed Bark
By ED BARK
Cable copped eight of the 11 TV awards during Sunday night's Golden Globes show on NBC, but one of the big ones went to Fox's
Glee
.
"This is for anybody and everybody who got a wedgie in high school," executive producer Ryan Murphy said after the first-year series won in the best comedy or musical category. AMC's
Mad Men
earlier was named best TV drama series.
All of the TV awards again were dispensed with before the feature film biggies got down to business in the three-hour telecast's home stretch. For a while it looked as though Showtime might overwhelm HBO for the first time ever. It won the evening's first three TV awards -- with Toni Collette the first onstage for
United States of Tara
before John Lithgow and Michael C. Hall followed with acting awards for
Dexter
.
Hall recently disclosed that he's in the final stages of treatment for Hodgkin's lymphoma, with the disease now in remission.
"It's really a helluva thing to go to work at a place where everybody gives a damn," said Hall, who wore a black stocking cap to the ceremony. His wife, Jennifer Carpenter, who plays Dexter's sister, Debra, could be seen beaming from the audience.
HBO later caught up to and surpassed Showtime with two Globes for the movie
Grey Gardens
and one each for
Big Love
and the movie
Taking Chance
.
Host Ricky Gervais, seen sparingly after a relatively brief opening monologue, scored his biggest laugh by riffing, "One thing that can't be bought is a Golden Globe -- officially. I'm not gonna do this show agaln anyway."
He sipped from a glass of beer late in the game, telling one and all that "I like a drink as much as the next man. Unless the next man is Mel Gibson."
Gibson then briefly feigned drunkenness after receiving an enthusiastic welcome. He soon was announcing a best director award for James Cameron and his global smash
Avatar
. Cameron said he had to pee really bad, and would be quick with his remarks, which he pretty much was.
Avatar
also won the night's climactic trophy -- for "Best Motion Picture -- Drama."
For a complete list of the TV and feature film winners,
go here
.