CBS' Seal Team has David Boreanaz in it -- which is likely all that matters
09/25/17 03:58 PM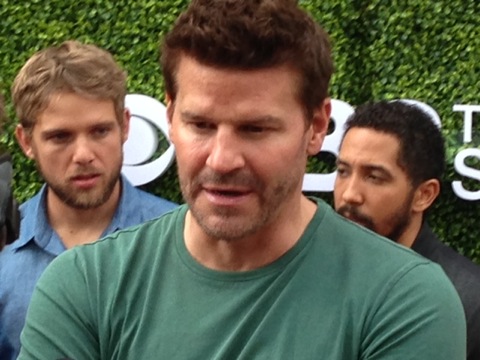 David Boreanaz takes a turn on CBS' red carpet. Photo: Ed Bark
Premiering:
Wednesday, Sept. 27th at 8 p.m. (central) on CBS
Starring:
David Boreanaz, Jessica Pare, Max Thieriot, Neil Brown Jr., A.J. Buckley, Toni Trucks,
Produced by:
Ben Cavell, Ed Redlich, Chris Chulack, Sarah Timberman, Carl Beverly
By ED BARK
@unclebarkycom on Twitter
It's probably best not to bet against David Boreanaz, who's had two decades worth of continuous TV series employment in starring roles on
Buffy the Vampire Slayer, Angel
and
Bones
.
He strikes again in CBS'
SEAL Team
, which will be nestled in a Wednesday night slot between
Survivor
and
Criminal Minds
. As noted in the
review of NBC's The Brave
, it's one of the fall's three new terrorist-fighting military dramas. It's also numbingly predictable throughout the first two episodes made available for review. And for Boreanaz in particular, it's the least adventuresome of his four series despite the recurrent, spur of the moment, top secret missions abroad.
Boreanaz plays "Tier One" team leader Jason Hayes, who's troubled after a recent military operation went too far and resulted in the death of a close friend. It doesn't help his disposition when he's ordered to submit himself to questioning by a psychiatrist who hopes to get in touch with his inner feelings. Hayes doesn't do inner feelings. Maybe that's why he's separated from his wife because, well, you know, he was never there for her.
After dispensing with these preliminaries, the team is informed by CIA analyst Mandy Ellis (Jessica Pare from
Mad Men
) of a sudden prime chance to nab a kingpin terrorist named Abu Samir. "We're looking for a straight up snatch and grab," Ellis says before accompanying the team to Liberia.
It's against Hayes' better instincts to take cocksure rookie Clay Spenser (Max Thieriot) along with the rest of the seasoned team.
"I'm telling you he's not ready," he protests. Which of course means that Spenser will be going and, in the end, causing some problems.
As in Episode One of
The Brave
, the taking of a woman hostage complicates matters. Can the team both capture Samir and rescue her? A lot of nightcam-lit action and tunnel-skulking ensues before Hayes makes it back just in the nick of time to attend his daughter's recital.
Episode 2 takes aim at a chemical weapons factory where there's also an unexpected complication, this time involving children. Spenser doesn't get to go along on this one. Instead he's back home doing more training and also coming on to a teacher at a bar. She initially brands him a sexist knuckle-dragger, which means that this relationship will blossom in due time.
The other Tier One members are Hayes' "trusted confidant" Ray (Neil Brown Jr.), the loyal but possibly self-destructive Sonny (AJ Buckley) and Davis (Toni Trucks), a combination logistics officer and den mother.
In dramas such as these, "official orders" are made to be disregarded for whatever is perceived as the greater good. Hayes, who has developed a bit of a jangled nerve hand twitch, can always be counted on to do the inherent right thing while also prototypically shouting "We gotta move now now now now now!"
At the now somewhat advanced age of 48, Boreanaz has his leading man bonafides down pat. Jim Caviezel (
Person of Interest
) initially had this lead role, but when a guy like Boreanaz becomes available, it's an easy call to re-cast.
Just don't expect much more than Boreanaz's command presence in
SEAL Team
. You'll see where it's going long before it gets there, no matter how far off the missions might be. But yeah, it'll probably run at least five seasons.
GRADE:
C
Email comments or questions to:
unclebarky@verizon.net