New series review: Army Wives (Lifetime)
06/01/07 03:16 PM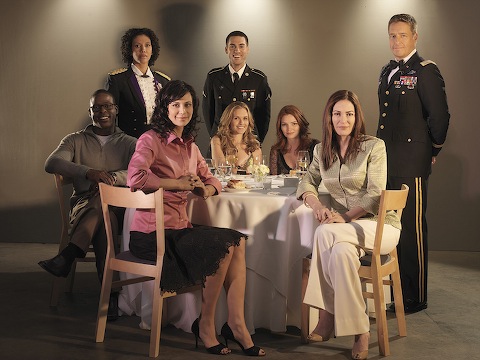 The characters in Lifetime's Army Wives are uniformly well-drawn.
Premiering:
Sunday, June 3 at 9 p.m. (central) on Lifetime
Starring:
Kim Delaney, Sally Pressman, Catherine Bell, Wendy Davis, Brigid Brannagh, Drew Fuller, Brian McNamara, Sterling K. Brown, Terry Serpico, Jeremy Davidson, Richard Bryant
Produced by:
Mark Gordon, Katherine Fugate, Deborah Spera
By ED BARK
Stand ready to salute the best new drama series in Lifetime's lifetime.
Army Wives
isn't a four-star general yet, but definitely makes colonel. It's an involving prime-time soap with amply interesting characters and storylines that men can buy into, too.
Odds are that many a viewer will both hoot and root for hot 'n' saucy Roxy LeBlanc (Sally Pressman), a deep-fried, Kellie Pickler-ish Alabaman who actually gets away with saying stuff like, "Well, if I didn't just serve up toe jam on an idiot cracker."
Roxy provides
Army Wives
' first visual image in Sunday's premiere episode. Her tight-jeaned backside gets an extreme closeup before the camera pans away to show she's a honky tonk bartender. She's also the twice-divorced mother of two high-spirited little boys. That doesn't deter a hunky Army PFC named Trevor from impulsively proposing marriage after knowing Roxy for less than a week.
Wahoo, she accepts and they're soon driving up to their new government house on the Fort Marshall base in Charleston, S.C. The front yard's a bit overgrown, but "where I'm from, the lawn's for car parts," says Roxy. Trust me, she'll grow on ya.
Prime-time combat veteran Kim Delaney (
NYPD Blue, CSI: Miami
) otherwise heads the cast as Claudia Joy Holden, dutiful but spirited wife of Col. Michael Holden (Brian McNamara). Former
JAG
star Catherine Bell gets right back to a military motif as abused Denise Sherwood, wife of super-stern Maj. Frank Sherwood (Terry Serpico).
Denise's bruises aren't from her husband, though. We'll stop right there.
The other key players are pregnant Pamela Moran (Brigid Brannagh), who's also harboring a secret, and shell-shocked Lt. Col. Joan Burton (Wendy Davis), addicted to both combat and the bottle. Joan and her civilian psychiatrist husband, Roland (Sterling K. Brown), are
Army Wives'
most poignant couple. Next Sunday's second episode will put them in much sharper focus.
Army Wives'
off-camera headmaster, Mark Gordon, knows his way around a series populated with strong women characters. He's also the co-executive producer of ABC's
Grey's Anatomy
. His big-screen credits include
Saving Private Ryan
, so he has a knack for playing military dress-up, too.
Early episodes are without any combat, though. Some of the spouses' men -- or women -- are either in the Middle East or headed there, but all of the action is at base level. In that sense, this is the flip side of FX's recent
Over There
series.
The homefront emphasis makes
Army Wives
frothier, sexier and far more accessible to viewers of both sexes.
Over There
had an almost exclusively male audience that dwindled week by week. Lifetime aims to please women first and foremost, but many a man probably won't mind marching along with this one.
This isn't, after all, a typical Lifetime movie with a colon insert. Even if it just as easily could be titled
Army Wives: The Roxy LeBlanc Story
.
Grade:
B+