New fall season: ABC's Pan Am looks good, but has the dramatic heft of a plywood plane
09/22/11 06:40 PM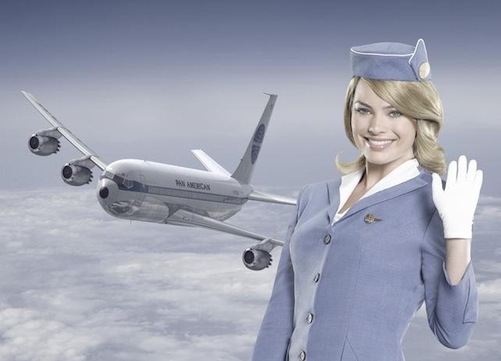 All aboard for a little Pan Am glam. ABC photo
Premiering:
Sunday, Sept. 25th at 9 p.m. (central) on ABC
Starring:
Christina Ricci, Margot Robbie, Kelli Garner, Karine Vanasse, Jonah Lotan, Michael Mosley
Produced by:
Tommy Schlamme, Jack Orman, Nancy Hult Ganis
By ED BARK
Mad Men
has style and substance in abundance. ABC's new
Pan Am
, also set in the early 1960s, merits some style points but is a mere carry-on bag in the other department.
Life and air travel were different back in 1963. And in the early seconds of
Pan Am
, a mockup of a
Life
magazine cover has beauteous new stew Laura (Margot Robbie) under a "Welcome to the Jet Age" headline. Imagine leg room. Those were the days.
Beyond selling the glamour of it all,
Pan Am
may be very hard-pressed to come up with weekly storylines that impel viewers to climb aboard.
The Love Boat
had a spacious vessel, numerous compartments and Isaac the fun-loving bartender.
Fantasy Island
offered scenic beauty and the odd couple duo of Mr. Roarke and Tattoo. Both welcomed assembly lines of celebrity guests, ranging all the way from Andy Warhol to Ruth Buzzi. You could eat an entire box of Whitman's Sampler chocolates while watching these things.
Pan Am
's opening episode centers on a six-and-a-half-hour flight from New York to London, aided and abetted by numerous flashbacks to fill out the hour. You want jeopardy or hijinks? Well, one of the stewardesses, named Kate (Kelli Garner), is an apprentice in-flight secret agent of sorts. In the interests of Cold War intrigue, she's assigned to smuggle something into an officious passenger's briefcase. Can you feel the excitement? Nor could I.
The aforementioned Laura is a runaway bride who raced away with Kate (her sister) in a red convertible while mama had a fit. Both Laura and "rebellious bohemian" Maggie (the accomplished Christina Ricci wasting her time) yearn to spread their wings and see the world. But an officious middle-aged stewardess matron, with her hair in a tourniquet-like bun, makes sure that all of her charges are first dutifully wearing their girdles. If you want a 1960s reference, she looks like
Lotta Lenya's villainous henchwoman, Rosa Klebb
, in
From Russia with Love
.
The other featured stew is French Colette (Karine Vanasse), who -- ooh la la -- had an affair with a guy who turned out to be married. She learns this when the cad boards the New York to London flight with both his wife and their wide-eyed son in tow. A-w-w-w-w-wkward.
There are a couple of pilots, too, both of whom barely look old enough to navigate the planes at Disneyland. Weren't flyboys of that era at least George Clooney's age?
Whatever the case, Dean (Jonah Lotan) is a dashing twentysomething navigator who intends to marry stunning stewardess Bridget. But she instead pulls a disappearing act. Co-pilot Ted (Michael Mosley) considers himself a real cocksman out of the cockpit. "Yeah, who's filling in the rest of her?" he cracks when when told that Maggie is a last-minute fill-in for Bridget.
The planes are nice looking, though. And those pale blue Pan Am stewardess uniforms look great when all four principals are marching in lockstep toward a waiting plane while a little girl looks on in awe and dreams of someday being one of them. The period music's suitably retro-cool, too, with
Mack the Knife
in full swing down the homestretch.
But where do we go from here?
Pan Am
strives to sell the notion that "adventure calls," as Maggie tells Laura. But how so? Crashing into a body of water during a ratings "sweeps" period might be a one-time possibility. But in Sunday's opener there's really nothing more calamitous than a "patch of rough air."
Co-executive producer Tommy Schlamme previously helped to helm
The West Wing
, so maybe he can find a way to somehow sustain this thing. That seems doubtful, though. Even a sidetrip flashback to a Bay of Pigs rescue operation lays flat in the premiere episode. And as for the instantly unlikeable co-pilot Ted, there should be a law against him even once getting lucky.
GRADE:
C