Bob's Burgers is way short on comedy condiments
12/28/10 11:42 AM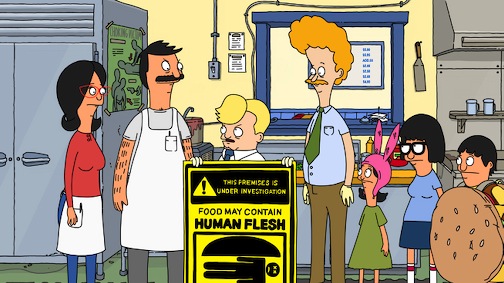 Bob has a problem in the premiere of Bob's Burgers. Fox photo
Premiering:
Sunday, Jan. 9th at 7:30 p.m. (central) on Fox
Voiced by:
H. Jon Benjamin, John Roberts, Eugene Mirman, Dan Mintz, Kristen Schaal
Produced by:
Loren Bouchard, Jim Dauterive
By ED BARK
The drawing is minimalist and the laughs are decidedly minimal in Fox's
Bob's Burgers
, latest addition to the network's Sunday night "Animation Domination" lineup.
"Your mom and I have to go downstairs and grind the meat," Bob Belcher (voiced by H. Jon Benjamin) tells his brood early in the Sunday, Jan. 9th premiere episode. Heh-heh, he said "grind the meat." Heh-heh.
Schlumpy daughter Tina (Dan Mintz) later assures a health inspector that this is "not a euphemism. They're really grinding the meat." You might have a better and funnier time, though, saying "ground chuck" 10 times in rapid succession. It's guaranteed to be smile-inducing.
Tina, if you've paid close attention to the above paragraph, is voiced by a man. As is Bob's beaten-down wife, Linda, for whom John Roberts does the honors.
Youngest daughter Louise (Kristen Schaal) and only son Gene (Eugene Mirman) otherwise match up gender-wise in a dour half-hour that finds the big Labor Day weekend re- re- re-opening of Bob's Burgers jeopardized by rumors that its meat patties are made from human flesh. Little Louise spread this particular word during a classroom show-and-tell. These are the jokes, folks.
In roughly the same mode, Tina informs the family that "my crotch is itchy. I'm just not sure if I'll be any good on the grill with just one free hand."
We pause briefly to ruminate on how
The Simpsons
was branded "subversive" by some in its early years but now is a veritable Mickey Mouse cartoon in comparison to Sunday night running mates
Family Guy, American Dad, The Cleveland Show
and, urp,
Bob's Burgers
.
It gets worse for the Belchers when the health inspector, who remains madly in love with Linda, slaps a "Food May Contain Human Flesh" advisory on their already hard-pressed burger joint. Potential customers scream in horror and brandish signs ranging from "Who's The Beef?" to "Don't Taste Me Bro."
Meanwhile, Tina offers an update on her condition: "Now my rash smells like bacon. And it doesn't itch anymore."
My nuts are spicy, for that matter. Not that you'd care to include this as a running joke in a cartoon series.
Bob's Burgers
has no such reservations, though. The deadpan deliveries of its principal characters can be very moderately amusing at times. But in the end, you probably won't want fries with this one.
GRADE:
C-minus