CW's Breaking Pointe bores the toes off the ballet profession
05/30/12 12:17 PM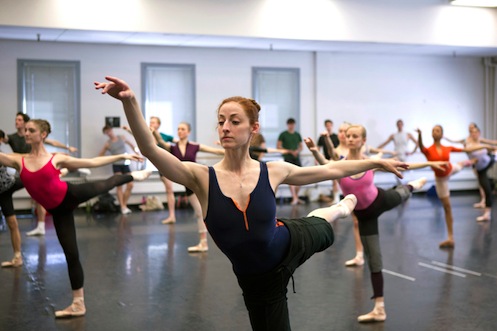 Prima ballerina Christiana Bennett of Breaking Pointe. CW photo
Premiering;
Thursday, May 31st at 7 p.m. (central) on The CW
Starring:
Adam Sklute, Christiana Bennett, Beckanne Sisk, Ronnie Underwood, Alllison DeBona, Rex Tilton, Ronald Tilton, Katie Martin
Produced by:
Kate Shepherd, Izzie Pick Ashcroft, Jane Tranter
By ED BARK
@unclebarkycom
Black Swan
it's not.
So subtract all but the thinnest veneer of dramatic tension from The CW's
Breaking Pointe
, an unscripted summer series about young Salt Lake City-based pointy toes and their very benevolent artistic director. It all adds up to Wan Lake, based on the premiere episode sent for review.
Ballet West has given the producers and their camera wielders unprecedented behind-the-scenes access for six weeks, viewers are told. It's not exactly heart-stopping stuff, with seven dancers spotlighted in addition to bossman Adam Sklute, whose edge gets no rougher than the observation that young Rex Tilton occasionally "lets his personal life interfere with his professional work."
Although it's a break from the loud, bawdy, brawling reality series norm,
Breaking Pointe
is too snoozy to ever achieve liftoff. There are hints that lead, tenured dancer Christiana Bennett might be somewhat threatened by 19-year-old rising star Beckanne Sisk. But it seems more as though she's been instructed to briefly don a few semi-pouty looks rather than muster them on her own. Any scant resemblances to the rivalry between
Black Swan
's Nina (Natalie Portman) and Lily (Mila Kunis) appear to have been mostly concocted.
All except Christina -- who has a minimum two-year guarantee -- supposedly are deeply worried about "Contracts Day," in which dancers learn whether they'll be part of the Ballet West company. But the series generates next to no electricity in this respect. Dancers nonchalantly open individual envelopes to learn their fates. Two of them are instructed to meet behind closed doors with the ever kindly Sklute. You could cut through the suspense with a Fisher-Price play saw.
Other dancers in the mix are young loves Ronald Tilton and Katie Martin; biker/ballet dude Ronnie Underwood; and the off-and-on-again pair of Rex Tilton (who wants a relationship) and Allison DeBona (who does not). She does, however, buy him a pair of bright orange pants during an extraneous trip to a clothing boutique.
There are no openly gay dancers among the featured seven. On the one hand that runs counter to a prevalent stereotype. On the other, it still seems to be at odds with current realities.
Whatever the series' makeup, it shows only scant signs of life while also failing to be all that revealing about the unique profession it depicts. You might find more human drama in a cruise ship buffet line.
Perhaps it all will build at some point to an exciting dance performance with all of the principals in full costume, makeup and flourish. But on a network already afflicted with an extreme paucity of viewers. that's not enough to offset Thursday's listless start. Nice idea perhaps. But in execution,
Breaking Pointe
is already toe-tagging itself.
GRADE:
D-plus