NBC's Olympian ratings feats
08/19/08 05:03 PM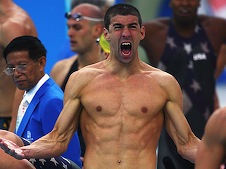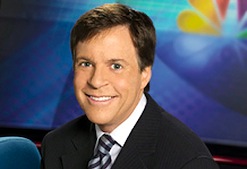 Olympic gold miner Michael Phelps and toastmaster Bob Costas
By ED BARK
Squash isn't an official Olympic sport, but NBC is playing it anyway with competitors at ABC, CBS and Fox.
The network's prime-time telecasts of the Beijing Summer Games dominated the most recent ratings week as never before, making NBC a cock of the walk among chickadees.
The network is crowing over the biggest margin of victory since Nielsen Media Research inaugurated its "People Meter" sampling in September 1987. Consider these gold medal numbers:
NBC averaged 28.7 million viewers nationally for its first full week of Olympic telecasts (Aug. 11-17). Runnerup CBS barely peeped with an average of 5.1 million viewers. That 's a record 463 percent margin of victory by NBC's reckoning. And unlike the gymnastics judges, it's safe to believe these calulations, which are corroborated by Nielsen.
CBS, ABC and Fox averaged a combined 11.8 million viewers for the week, trailing NBC by a 143 percent margin. Again, that's a record in the modern era.
NBC overall is averaging 29.6 million viewers for its first 11 nights of prime-time coverage. That's well ahead of the 2004 Athens average of 26.2 million.
The overall Olympics audience on all of the NBC Universal networks -- including cable's USA, CNBC and Oxygen among others -- has reached 200 million total viewers and been seen in 83 percent of all U.S. television homes. Atlanta's 1996 Summer Olympics hold the all-time record of 209 million viewers. But that took 17 days to achieve, says the NBC Universal release.