ABC hopes to be country strong with five new fall series, two of them music-themed twangers
05/15/12 10:23 AM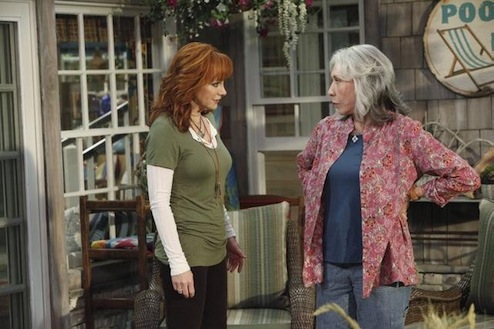 Reba McEntire and Lily Tomlin will clash weekly in Malibu Country.
ABC photo
By ED BARK
@unclebarkycom
Two country music mamas will top ABC's new season charts, with Reba McEntire and Connie Britton both portraying veteran twangers in separate new series.
ABC has five freshmen for the fall, with another two ready to go in January after Tuesday night's
Dancing with the Stars
results show takes a breather.
Among the notable cancellations is another drawler.
GCB
, the Dallas-set soap opera about hypocritical church-going she-devils, is getting axed in tandem with the series it replaced on Sunday nights,
Pan Am
. The pilot for
GCB
(short for
Good Christian Bitches
) was filmed in Dallas before production shifted to L.A.
ABC's cancellation corral also is populated by
Missing, The River, Work It, Man Up, Charlie's Angels, Desperate Housewives, Wipeout, Extreme Makeover: Home Edition
and
Cougar Town
, which has been rescued by TBS.
But ABC also is renewing six of this season's freshman series --
Revenge, Scandal, Once Upon a Time, Last Man Standing, Don't Trust the B --- In Apartment 23
and
Suburgatory
.
Tim Allen's
Last Man Standing
gets moved from Tuesdays to Fridays, where it will be paired with McEntire's
Malibu Country
, also starring Lily Tomlin.
Body of Proof
, which got a last-ditch reprieve, won't be back until sometime in midseason, as will
Wife Swap
.
Here are ABC's five new fall series:
Nashville
(drama) -- Connie Britton, who last season segued from
Friday Night Lights
to FX's
American Horror Story
, stars as fading country music legend Rayna James in this
Country Strong
-ish saga. Her record label thinks she might be able to revive things with a concert tour in which she opens for bright new star Juliette Barnes (Hayden Panettiere from
Heroes
). Also in the mix is evergreen Powers Boothe as Rayna's domineering, estranged daddy, who wants her hubby, Teddy, (Eric Close) to run for mayor of Nashville. But Rayna doesn't much cotton to that, as they say in the 'hood.
Last Resort
(drama) -- TV vet Andre Braugher (
Men of a Certain Age
) takes another shot as the captain of a U.S. ballistic submarine ordered to fire nuclear weapons at Pakistan. Both the cap and his XO balk before they're fired on and hit by what used to be friendly forces. Next step: take the sub on the run to a far-off exotic island, where they find "refuge, romance and a chance at a new life, even as they try to clear their names and get home." What is it with ABC and islands?
666 Park Avenue
(drama) -- The mysterious owner of this historic luxury pad, played by Terry O'Quinn from
Lost
, is also a master manipulator in league with his wife, Olivia (Vanessa Williams). An "idealistic" Midwest couple are at their mercies when they agree to manage the place. So here we go again with another "epic struggle of good versus evil."
Malibu Country
(comedy) -- In pretty much a replica of her old
Reba
sitcom, McEntire plays a would-be country music star who put her career on hold to raise a family. But her philandering husband forces a divorce, sending Reba Gallagher packin' off from Nashville to Malibu with her two kids and tart-tongued mother Lillie May (Lily Tomlin). Sara Rue (
Rules of Engagement
) co-stars as Reba's new neighbor and confidante as she tries to re-start her singin' career.
The Neighbors
(comedy) --
3rd Rock From the Sun
returns in this similarly-themed offshoot in which newcomers to a gated New Jersey town home community learn that all the other residents are aliens from the planet Zabvron. That's where "the men bear children and everyone else cries green goo from their ears," says ABC. They're all disguised as humans, though, with pro athlete names ranging from Larry Bird to Jackie Joyner-Kersee. Jami Gertz is the best known name in the cast.
Here is ABC's night-by-night fall schedule:
Monday
Dancing with the Stars
Castle
Tuesday
Dancing with the Stars results show
Happy Endings
Don't Trust the B -- in Apartment 23
Private Practice
Wednesday
The Middle
Suburgatory
Modern Family
The Neighbors
Nashville
Thursday
Last Resort
Grey's Anatomy
Scandal
Friday
Shark Tank
Primetime: What Would You Do?
20/20
(Starting in November on this night)
Last Man Standing
Malibu Country
Shark Tank
20/20
Saturday
Saturday Night College Football
Sunday
America's Funniest Home Videos
Once Upon A Time
Revenge
666 Park Avenue
These are ABC's new midseason series, with
The Family Tools
and
How to Live with Your Parents (For the Rest of Your Life
) already slotted for January debuts from 7 to 8 p.m. (central) on Tuesdays.
The Family Tools
(comedy) -- A so far inept son is given charge of the family handyman business after his father has a heart attack. Various fractious relatives complicate matters, but Jack Shea (Kyle Bornheimer) at least has the support of his frisky Aunt Terry (Leah Remini from
King of Queens
).
How to Live with Your Parents (For the Rest of Your Life
) (comedy) -- Former sitcom stars Sarah Chalke (
Scrubs
) and Brad Garrett (
Everyone Loves Raymond
) front another fractious family laughter. Chalke plays an up against it single mom who moves back in with "eccentric" parents Max and Elaine (Garrett, Elizabeth Perkins).
Zero Hour
(drama) -- Ex-
ER
mainstay Anthony Edwards finally navigates his way back as the publisher of a paranormal enthusiast magazine whose wife is abducted from her antique clock shop. Luckily she's left a secret treasure map behind, enabling Hank Galliston (Edwards) and three associates to embark on a "breathless race against the clock to find his wife and save humanity." Otherwise there'd be no show.
Red Widow
(drama) -- TV newcomer Radha Mitchell stars as married mother of three Marta Walraven, whose husband is brutally murdered. Unfortunately her family has mob ties, prompting Marta to discover "a tenacity she never knew she had" as she fights for truth, justice and a side dish of revenge.
Mistresses
(drama) -- ABC says this is a "provocative and thrilling drama about the scandalous lives of a sexy and sassy group of four girlfriends, each on her own path to self-discovery, as they brave the turbulent journey together."
Based on a same-named British series, its stars include Alyssa Milano (
Charmed, Melrose Place
) and Yunjin Kim (
Lost
).