New season: NBC's Mercy will have to be nursed in a too-early time slot
09/23/09 09:23 AM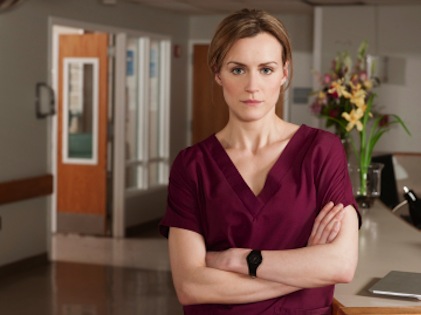 Taylor Schilling stars as tough-minded head nurse in Mercy.
Premiering:
Wednesday, Sept. 23rd at 7 p.m. (central) on NBC
Starring:
Taylor Schilling, Jaime Lee Kirchner, Michelle Trachtenberg, James Tupper, Diego Klattenhoff, Guillermo Diaz, James Le Gros, Delroy Lindo
Produced by:
Liz Heldens, Gretchen Berg, Aaron Harberts, Lloyd Braun, Gail Berman
By ED BARK
Nurses are plentiful as vampires this year, not there's any further comparison.
The latest take-charge practitioner, Veronica Callahan, is the central character of NBC's new
Mercy
. Earlier shifts were taken by TNT's
HawthoRNe
and Showtime's
Nurse Jackie
, both renewed for second seasons.
Mercy
, with heavy doses of adult content, likely would have been a 9 p.m. (central) show in NBC's old days. But Jay Leno now has that real estate locked up, leaving
Mercy
at the mercy of a less than ideal 7 p.m. slot. It's stepping in for the originally scheduled
Parenthood
, delayed until later by a real-life medical situation. Cast member Maura Tierney was diagnosed with breast cancer and subsequently opted to leave the show.
Nurse Callahan, newly returned from duty in Iraq, has not yet adjusted to life back at New Jersey's Mercy Hospital. She's first seen awakening with a start after dreaming of being machine-gunned to death. Her marriage has been shattered, too, although a rapprochement is in the works. And she's still dismissed as "some stupid nurse" by a much stupider woman whose husband owes his life to her.
Callahan in turn hits the bottle and lashes out at doctors, calling one a "scrotum head" and another an "unbelievable moron." And after the trauma she's witnessed in Iraq, everyday terminal illnesses don't move her all that much anymore.
"A 75-year-old man with cancer. That's a trip to Club Med," she says. Especially compared to a soldier who had both of his arms amputated before being outfitted with a colostomy bag.
Some of this is heavy-handed. But
Mercy
can be affecting and involving, too. Schilling is a presence in the lead role. And one of her colleagues, Sonia Jiminez (Jaime Lee Kirchner), likewise makes a solid impression.
The show also is populated by rookie nurse Chloe Payne (Michelle Trachtenberg) and incoming Dr. Chris Sands (James Tupper from
Men In Trees
), with whom Callahan served in Iraq. They spent some time together out of uniform, too, and his surprise return complicates the budding reconciliation with estranged husband Mike Callahan (Diego Klattenhoff), who comes off as a well-meaning semi-dolt.
Former
Star Trek: Voyager
captain Kate Mulgrew is on board, too. She has a few scenes as Callahan's hectoring, apparently alcoholic mother.
Wednesday's premiere unfortunately ends with an old stereotype -- the three featured nurses all cooing over a hunky neighborhood bartender who has cut his hand breaking up a fight.
Mercy
is better than that for the most part. But it's also a heavy dose of adult drama at an uncommonly early hour. And that could be a prescription for an undeserved early cancellation.
GRADE:
B