HBO's About Face a different sort of project runway
07/27/12 03:01 PM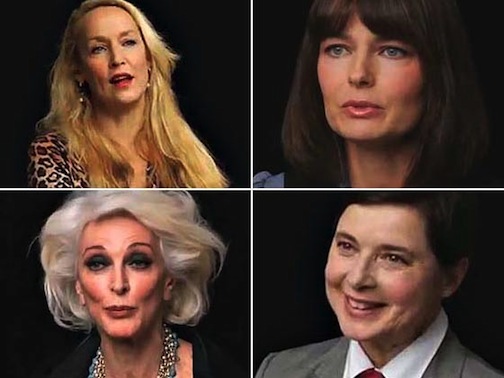 Clockwise from upper left: Former star models Jerry Hall, Paulina Porizkova, Isabella Rossellini and Carmen Dell'Orefice. HBO photos
By ED BARK
@unclebarkycom
They're hardly Model Ts, but still far removed from their days as A-list, pouty-lipped clothes mares.
HBO's
About Face: Supermodels Then and Now
(
Monday, July 30th at 8 p.m. central
) is an intriguing 85-minute documentary book-ended by tart, colorful observations from unrepentant Carmen Dell'Orefice.
Still strutting runways at age 81, she's asked what she thinks of cosmetic surgery.
""That's a very polite way of asking me, I'm sure, 'Have you had a facelift?' " Dell'Orefice retorts agreeably in the film's opening minute. "Well, if you had the ceiling falling down in your living room, would you not go and have a repair?"
Besides, Dell'Orefice wasn't exactly built up by her mother. Or so she recalls. "My mother used to say, 'You have feet like coffins and ears like sedan doors.' I internalized that."
Filmmaker Timothy Greenfield-Sanders (
The Black List, The Latino List
) might have done well to just keep the camera on her and let everyone else hit the cutting room floor. But other former supermodels are quite interesting as well, among them Isabella Rossellini, Jerry Hall, Paulina Porizkova, Carol Alt, China Machado, Marisa Berenson and Lisa Taylor.
In contrast, the director's two best-known subjects, Christie Brinkley and Cheryl Tiegs, are comparatively guarded. Which makes them rather dull.
Hall, the pride of Gonzales, Texas and Mick Jagger's wife from 1990-'99, recalls working at a Dairy Queen as a teenager while her mother urged her to become a model. As Hall tells it, she struck it rich after a hospital offered her $800 in hush money if she wouldn't sue them after being injected with penicillin, to which she was allergic.
At mom's urging, she took the money and ran off to the place to be -- the French Riviera. It didn't take long for her to be discovered in a pink, metallic crocheted bikini.
Now 56, Hall still looks pretty wild and wooly in a leopard print dress she wears for her current-day close-ups. Her marriage to Jagger is never mentioned, though.
Alt talks openly of doing a
Playboy
spread at age 48. Viewers get a brief look-see before she says her overall goal was to show that women of her age can still be "healthy and happy."
Porizkova remains a stunner at age 45, but says that her days of posing are pretty much past tense.
"At 50, you don't need to attract the same thing," she says. So why do you need to look like you still want to attract the same thing? I've got my kids, I've got my man."
In her view, confidence is the best human attribute of all. And "nothing says I'm not confident as much as Botox."
Karen Bjornsen, who returned to modeling at age 50 and is now 58, says she's had her eyes done in the interests of "getting the product in shape again. I don't want to look younger. I just want to look well-rested."
Rossellini, wearing a suit and tie with her hair cut severely short, says she's still debating whether to have any cosmetic touchups. The daughter of screen star Ingrid Bergman -- she touchingly calls her "mama" at one point -- can now laugh boisterously about not being invited to A-list parties anymore. It really doesn't seem to bother her.
Some of the models recall the racism they encountered in vying for magazine covers and runway exposure. Beverly Johnson notes that she was "the first African-American to grace the cover of
Vogue
." But that wasn't until August, 1974.
The rampant hard drug use of that era took lives while also being swept under the rug.
Taylor recalls being the principal subject of a
New York Daily News
story headlined, "The Dark Side of Modeling." She considers herself very lucky to be alive. But she also takes the standard fallback position, expressing no regrets at all because being a former drug addict is part and parcel of the person she is today.
"When drugs came on the scene, the look of the girl changed," says former
Vogue
fashion director Jade Hobson. "You certainly stopped smiling."
From the look on her face, she
does
seem to have regrets after saying, "We maybe exploited those girls, because it (a drug high) also brought a certain look to the photograph."
Porizkova is even blunter in her assessment of how the models of her day were viewed, ogled and sometimes pawed.
"What people called sexual harassment, we called compliments," she says.
A number of the models interviewed are pampered and primped anew for a group photograph session near film's end. And whatever their current views on the past and present of their profession, they still seem to very much enjoy the renewed attention.
None more so than the ever-game Dell'Orefice, who gets the last words before the closing credits are accompanied by the Lou Reed-written "You Wear It So Well."
"I get my love privately," she says, undeterred by rejection. "There's another job, or there isn't another job. We all have to go sometime. And when I go, I want to go with my high heels on."
One could do a lot worse.
GRADE:
B+