Mulaney crash-lands on Fox
10/03/14 09:43 AM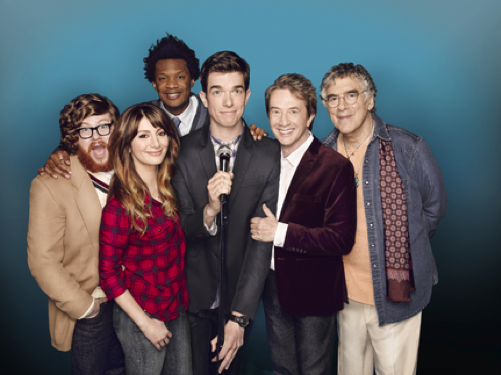 John Mulaney (with mike) and his support group. Fox photo
Premiering:
Sunday, Oct. 5th at 8:30 p.m. (central) on Fox
Starring:
John Mulaney, Martin Short, Nasim Pedrad, Seaton Smith, Zack Pearlman, Elliot Gould
Produced by:
Lorne Michaels, John Mulaney, David Miner, Dave Becky, Jon Pollack, Andrew Singer
By ED BARK
@unclebarkycom on Twitter
The entirety of
Mulaney
is no better and usually inferior to those lame end-of-show sketches that barely make the cut on
Saturday Night Live
.
This is doubly tragic for Fox, since the show stars former
SNL
writer/performer John Mulaney and is co-produced by NBC's lord of all late night, Lorne Michaels.
Mulaney, reed-thin and hopelessly adrift here, so far is succeeding only in being one of the worst sitcom actors ever. His timing is terrible and his delivery is flat and robotic. Perhaps he's a nice guy. But Mulaney has no business fronting a prime-time sitcom whose laugh track must have been carried kicking and screaming into service. Already tanking severely in the prime-time ratings, Fox doesn't need a dud like this. But the network has only itself to blame.
Episodes begin, as did
Seinfeld
, with Mulaney doing standup. After a bit of this unfunny business we unfortunately get to meet his friends.
Motif (Seaton Smith) is a fellow struggling standup who in Sunday's premiere is trying to perfect a "problem bitches" routine. Thud. And insulting as well.
Jane (fellow
SNL
alum Nasim Pedrad) is a personal trainer who likewise gets dumbbell lines to recite. And Andre (Zack Pearlman) is the requisite tubby, bearded hanger-on. The Zach Galifianakis ripple effect still has no end in sight.
Two combat veterans also are in this mix. Martin Short, ever hammy, is vainglorious game show host Lou Cannon. He more or less hires Mulaney as a writer. But Short of course inhales every scene he's in, occasionally inducing a grin. Not with this line, though. In Episode 2, he says, "Josef Stalin was dead for two weeks before anyone in Russia knew. Now there's an entertainer."
Elliot Gould plays Mulaney's gay next door neighbor Oscar, whose daffiness doesn't register in any context. Episode 2 finds him with two drop-in "big-time lesbians," Tootie and Vaughn (guest stars Penny Marshall and Lorraine Bracco). The empty feeling persists.
Michaels perhaps has been way too busy to oversee
Mulaney
in addition to
SNL
, the show's upcoming 40th anniversary special,
The Tonight Show Starring Jimmy Fallon, Late Night with Seth Meyers
and
Portlandia
. Maybe he doesn't even know
Mulaney
will soon be on the air. If so, ignorance would be bliss. This is a messy disposable diaper of a comedy series whose star plays himself without any idea of how to act or write the part.
GRADE:
F
Email comments or questions to:
unclebarky@verizon.net