Significant switches, more NCIS/CSI spinoffs highlight new CBS lineup
05/14/14 08:49 AM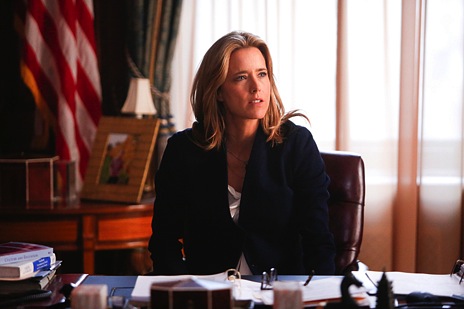 Tea Leoni as DC powerbroker in Madam Secretary. CBS photo
By ED BARK
@unclebarkycom on Twitter
Key shows on new nights and the announced last season of
Two and a Half Men
highlight a new CBS fall schedule in which the NFL also will have a prominent place in prime-time for the first eight weeks.
New spinoffs of
NCIS
and
CSI: Crime Scene Investigation
also are coming on a network that remains No. 1 in total viewers but lost its briefly held crown to NBC this season in the battle to attract advertiser-prized 18-to-49-year-olds.
CBS is adding four new dramas and a lone freshman comedy to its fall arsenal. But of more import to most viewers, prime-time's No. 1-rated sitcom,
The Big Bang Theory
, will temporarily be moving to the Monday night leadoff spot to accommodate the incursion of
Thursday Night Football
.
CBS' other returning Thursday night series,
Two and a Half Men, The Millers
and
Elementary
, will be sidelined until their Oct. 30th return to that night along with
Big Bang
. The network's new deal with the NFL calls for just eight games this season, with a Sept. 11th opener between the Pittsburgh Steelers and Baltimore Ravens and an Oct. 23rd closer pitting the Denver Broncos against the San Diego Chargers.
CBS also is shifting
NCIS: Los Angeles
from Tuesdays to Mondays while putting the new
NCIS: New Orleans
behind prime-time's most-watched scripted drama,
NCIS
.
Also relocating:
The Amazing Race
from Sundays to Fridays and
CSI: Crime Scene Investigation
from Wednesdays to Sundays, where it will be replaced later in the season by
CSI: Cyber
. And in another change to the established order, CBS is halving its traditional Monday night sitcom load from four to two.
CBS renewed just two of this season's newcomers --
The Millers
and
Mom
-- while canceling freshmen
Intelligence, Hostages, The Crazy Ones, Friends with Better Lives
and
We Are Men
. An announced new midseason drama,
Reckless
instead will debut this summer on Sunday, June 29th.
Veteran sitcom
How I Met Your Mother
earlier had its series finale. Returnees
Mike & Molly, The Mentalist
and
Undercover Boss
all will be awaiting midseason berths.
Here are CBS' five new fall series:
Madam Secretary
(drama) -- Tea Leoni stars as "shrewd, determined" and newly appointed Secretary of State Elizabeth McCord. The former CIA analyst heeds the President's call after her predecessor is found mysteriously dead. Bebe Neuwirth co-stars as McCord's chief of staff and Tim Daly plays her "supportive" husband and father of their two children. What will Hillary think?
NCIS: New Orleans
(drama) -- Scott Bakula returns from this season's
NCIS
-augmented launchpad as Special Agent Dwayne "King" Pride. Sturdy CCH Pounder (
The Shield
) co-stars as coroner Loretta Wade.
Scorpion
(drama) -- "Eccentric genius" Walter O'Brien (Elyes Gabel) heads a team of likewise brilliant misfits in weekly efforts to "solve mind-boggling predicaments." The Scorpion team has trouble, however, relating to the outside world. So Katharine McPhee, as Paige Dineen, is called on to brush up their social skills.
Stalker
(drama) -- Maggie Q (
Nikita
) and Dylan McDermott (on the rebound from
Hostages
) play detectives tracking down -- stalkers.
The McCarthys
(comedy) -- Laurie Metcalfe (
Roseanne
) stars as the mother of a loud, sports-crazed Boston family, which is shocked when nerdy, gay Ronny (Tyler Ritter) is chosen by dad to be his assistant high school hoops coach.
Here is CBS' night-by-night new fall lineup:
Monday
The Big Bang Theory (2 Broke Girls after Thursday football ends)
Mom
Scorpion
NCIS: Los Angeles
Tuesday
NCIS
NCIS: New Orleans
Person of Interest
Wednesday
Survivor
Criminal Minds
Stalker
Thursday
Thursday Night Football through Oct. 23
(As of Oct. 30)
The Big Bang Theory
The Millers
Two and a Half Men
The McCarthys
Elementary
Friday
The Amazing Race
Hawaii Five-0
Blue Bloods
Saturday
Crimetime repeat
Crimetime repeat
48 Hours
Sunday
60 Minutes
Madam Secretary
The Good Wife
CSI: Crime Scene Investigation
CBS also has three announced new midseason series. Here they are:
The Odd Couple
(comedy) -- Matt Perry takes his fourth post-
Friends
shot, this time as slob Oscar Madison opposite Thomas Lennon's persnickety Felix Unger.
Battle Creek
(drama) --
Breaking Bad
creator Vince Gilligan returns to prime-time with the saga of mismatched detectives called on to "clean up the hardscrabble streets of Battle Creek, MI (who knew?)" Josh Duhamel and Dean Winters star.
CSI: Cyber
(drama) -- Patricia Arquette fronts this one as a character inspired by real-life "CyberPsychologist Mary Aiken. As seen on TV, her name is Avery Ryan. No other cast members have been announced yet.
Email comments or questions to:
unclebarky@verizon.net