Fox's Past Life needs to find a pulse
02/09/10 12:03 PM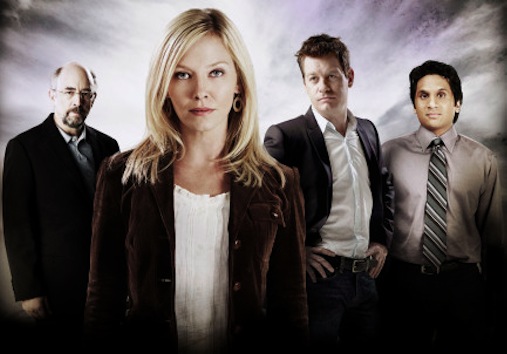 Kelli Giddish heads the cast of Fox's new Past Life. Fox photo
Premiering:
Tuesday, Feb. 9th at 8 p.m. (central) on Fox before moving to 8 p.m. Thursdays
Starring:
Kelli Giddish, Nicholas Bishop, Richard Schiff, Ravi Patel
Produced by:
David Hudgins, Lou Pitt
By ED BARK
Paranormal is getting to be the new normal in television's continuing quest to weave out-of-body twists and turns into prime-time storytelling.
The latest culprit -- and that's the case here -- is Fox's
Past Life
, which gets the usual post-
American Idol
launchpad Tuesday night before being sent to Thursdays to fend for itself.
Inspired by the novel
The Reincarnationist
, this is a largely labored effort starring former
All My Children
regular Kelli Giddish as Dr. Kate McGinn, a psychologist "dedicated to the study of the science of the soul," according to Fox publicity materials.
Her base of operations is the Manhattan-based Talmadge Center for Behavioral Health, run by the reliably stern Dr. Malachi Talmadge (a basically extraneous Richard Schiff from
The West Wing
.)
McGinn of course is teamed with a polar opposite partner, former NYPD homicide detective Price Whatley (Nicholas Bishop). Dismissed for drinking and brooding too much, he's been guilt-ridden since his wife died in a diving accident after he egged her on.
The two of 'em team in Tuesday's opener to tackle the riddle of a haunted kid named Noah. McGinn quickly diagnoses him with "classic regression trauma." But has he also been reincarnated after his previous self -- a young girl -- was murdered by a kidnapper?
Inquiring and troubled minds eventually merge, although rather tediously and preposterously. As McGinn tells her partner, "The clues are there. You just have to know where to look."
Meanwhile, the always welcome Judith Ivey briefly drops in to play McGinn's mama, Laney. Brandishing a hard liquor drink and a world weary 'tude, she says at one point, "As far as I'm concerned, husbands are like Jesus. Just another white man tellin' me what to do."
Ivey's quickly out of the picture, though, leaving
Past Life
to reach a resolution without enough bite, zip or basic believability to merit your continued patronage.
Fox sent the second episode for review. But after just a few minutes, it convinced your friendly content provider that life is too short for this -- even if reincarnation might be in the cards. A quick hit of the "Eject" button made everything all better again.
GRADE:
C