Memphis Beat tries to give Earl star a new acting rhythm
06/21/10 04:23 PM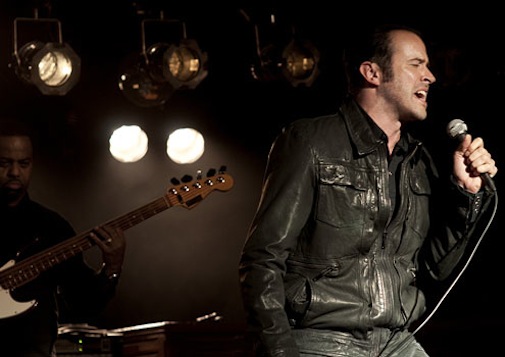 Jason Lee mixes in a little Elvis on Memphis Beat. TNT photo
Premiering:
Tuesday, June 22nd at 9 p.m. (central) on TNT
Starring:
Jason Lee, Alfre Woodard, Sam Hennings, DJ Qualls, Celia Weston, Leonard Earl Howze, Abraham Benrubi
Produced by:
George Clooney, Grant Heslov
By ED BARK
Jason Lee has shucked the 'stache but it's still going to take awhile to buy him as a hard-charging, home boy police detective instead of screwed up Earl Hickey.
His new vehicle, after four seasons on NBC's
My Name Is Earl
, is TNT's
Memphis Beat
. Lee is trying to settle in as Dwight Hendricks, a cop whose fealty to his city is more than a little over-baked in Tuesday's premiere.
Produced by George Clooney, Grant Heslov and their Smokehouse Pictures,
Memphis Beat
finds Lee's character throwing himself into Elvis vocals at a local club when he's not upbraiding suspects for failing to respect the city's traditions and legendary figures. One of them, a long-retired famous radio deejay named Dottie Collins, is found mute and badly bruised around the back and shoulders.
Her legacy -- and its importance to him -- has Hendricks pursuing the perpetrator with a zeal that's not initially shared by his new boss, prototypical by-the-booker Tanya Rice (venerable Alfre Woodard). How many times can a TV cop series feed at the trough of this thoroughly watered-down premise? Alas, that's become a rhetorical question.
Other featured cop shop characters include Hendricks' plainclothes partner, Charlie "Whitehead" White (Sam Hennings), and a goofy looking, skin 'n' bones, Barney Fife-ish uniformed cop named Davey Sutton (DJ Qualls).
There's also room made for Hendricks' headstrong mother, (Celia Weston), of whom he's very protective.
Tuesday's opener is subtitled "That's All Right, Mama," with upcoming episodes also taking on Elvis standards such as "Suspicious Minds, Polk Salad Annie" and "Love Me Tender" (modified to "Love Her Tender"). Lee seems to be in fine voice for his climactic nightclub interpretation of "If I Can Dream" while his police pals beam with approval. Except that it's not in fact him singing,
he told zap2it.com.
Lee obviously wants to dodge any life-long acting ties to Earl Hickey. It's just not jelling for him yet, though. And the show itself is too self-conciously steeped in made-for-TV "authenticity" to work for Memphis the way HBO's
Treme
does for New Orleans.
Things obviously could get better in time. For starters, though, the timing's off.
GRADE:
C+