Look out, it's only just begun: ReelzChannel weighs in early with JFK: The Smoking Gun
10/29/13 02:19 PM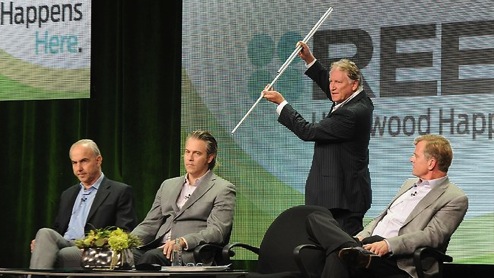 Australian detective Colin McLaren demonstrates a bullet trajectory during a JFK: The Smoking Gun panel at the Television Critics Association summer TV "press tour" in Beverly Hills. ReelzChannel photo
By ED BARK
@unclebarkycom on Twitter
It can't be stopped and won't be denied.
The Kennedy cavalcade is coming full force, with who knows how many commemorations and conspiracy theories tied to the 50th anniversary of that very dark day in Dallas.
Television of course is doing its part. The medium that "came of age" on Nov. 22, 1963 will be filling home screens beyond the bursting point next month. One of the first perpetrators is ReelzChannel and its two-hour
JFK: The Smoking Gun
, billed in publicity materials as "the only program based entirely on facts and evidence which reveals who shot the President." It premieres on
Sunday, Nov. 3rd at 7 p.m. (central)
and will be repeated on eight other dates in November.
Stuffed with stilted actor re-enactments -- and repeated shots of a mock John F. Kennedy corpse with its skull blown open --
Smoking Gun
basically regurgitates the 1992 book
Mortal Error
and its conclusion that a Secret Service agent accidentally fired the third and fatal shot. It's as "good" a theory as any within the vast realm of cockamamie but cocksure assertions that Lee Harvey Oswald did not act alone.
The book's contention -- that agent George Hickey inadvertently killed Kennedy with an AR-15 assault rifle -- gets no credence in Vincent Bugliosi's voluminous 1,612-page
Reclaiming History
, which in 2007 sought to debunk any and all conspiracy theories connected to JFK's death. He dismisses this one in just under four pages, terming
Mortal Error
"unfit for human consumption." Other than its author and his principal source of information, "I know of no serious student of the assassination who takes the book or its contents seriously," Bugliosi wrote.
Well, now there are at least three.
Mortal Error
's new champion is former Australian forensics detective Colin McLaren, who teams with the book's original author, Bonar Menninger, to answer the narrative question, "Have these two experts finally found the smoking gun, hidden in plain sight all along?"
Well, they certainly think so. And their pathfinder is the late Howard Donahue, a ballistics expert who first gained fame in a multi-part 1967 CBS investigation into whether Oswald conceivably could have fired three shots with such deadly precision within a 5.6 second time frame via a balky old Mannlicher-Carcano rifle.
Donahue, who died in 1999, in fact did get off three shots in the allotted time after first failing twice. And all of them hit a moving bullseye used by CBS to replicate the conditions Oswald faced. But Donahue began looking deeper, eventually deducing on his own that Oswald in fact fired just two shots, one of which missed before the second struck Kennedy in the neck. So where did the last shot come from?
After decades of obsessive research, Donahue fingered Hickey, who was riding in the motorcade car immediately behind the presidential limo. Hickey, who died in 2005, refused to talk to Menninger or Donahue for the purposes of their book. He instead sued them twice. The first one was filed after the statute of limitations had expired. The second, in conjunction with the paperback version of
Mortal Error
, was settled out of court. Menninger tells the camera that the book's publishers opted to pay Hickey off rather than be immersed in a costly legal battle.
Mortal Error
got some attention, including an ABC News interview of Donahue by an incredulous Charles Gibson. But the book "does not fly off shelves, does not cause a national uproar," says
Smoking Gun
narrator Alex Ivanovici.
No matter. A 50th anniversary puts just about everything back in play. Donahue's daughter, Colleen Lorenzen, now contends that other assassination theories were hotter at the time
Mortal Error
was published. She also says it was never her father's intention to "paint him (Hickey) as a bad guy or disparage him in any way. And he had great sympathy for Mr. Hickey."
Smoking Gun
instead disparages the late Arlen Spector, a former assistant counsel for the Warren Commission who went on to become a long-serving U.S. Senator from Pennsylvania. Spector, played by actor Daniel Bingham, is depicted as the chief architect of a government cover-up. He's last seen advancing toward the camera with a thin, satisfied smile on his face. This may be even more reprehensible than the documentary's numerous shots of a bare-chested JFK stand-in being pawed over during a very crowded and disorganized autopsy conducted after the slain president's body was flown from Dallas to Washington.
McLaren, for his part, lurks around Dealey Plaza, visits Oswald's lair at the Texas School Book Depository ("This is the Holy Grail of all crime scenes") and affirmatively answers narrator questions such as, "Did the Secret Service have something to hide?"
It can't be said -- unfortunately -- that
Smoking Gun
is bereft of any "entertainment" value. It may well pull many viewers along, whether you were alive on Nov. 22, 1963 or are just learning the particulars of what McLaren calls "one of the most contentious mysteries of our time."
Not that ReelzChannel has anything resembling an airtight case here. In that sense, it's ludicrous for McLaren to declare at film's end, "Maybe it's time to see the smoking gun and then to quietly close the door behind history's most talked about and debated crime scene."
Quietly close the door? Yeah, sure. By the 75th anniversary, we'll perhaps get an assertion that President Kennedy was killed by a laser shot from the newly discovered planet Scorpio. And by the 100th? Well, maybe someone will claim that Bill O'Reilly's best-selling
Killing Kennedy
in reality was an admission of his own guilt. After all, he was a mischievous, identity-seeking 14 at the time.
But first things first. National Geographic Channel's
Killing Kennedy
adaptation, starring Rob Lowe as JFK, will premiere on Nov. 10th. And it sticks to the Oswald script.
GRADE:
C-minus
Email comments or questions to:
unclebarky@verizon.net