ABC's Black Box goes for gravitas on a tilt-a-whirl
04/23/14 11:31 AM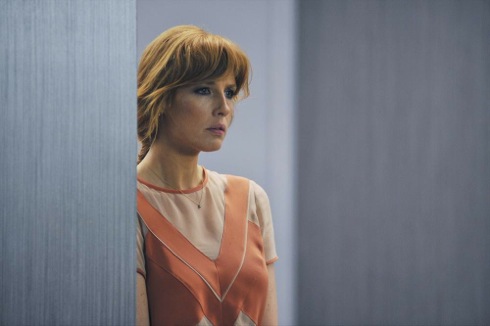 Kelly Reilly stars as "Marco Polo of the brain" in Black Box. ABC photo
Premiering:
Thursday, April 24th at 9 p.m. (central) on ABC
Starring:
Kelly Reilly, Ditch Davey, David Ajala, Ali Wong, Laura Fraser, David Chisum, Siobhan Williams, Vanessa Redgrave, Terry Kinney
Produced by:
Amy Holden Jones, Ilene Chaiken, Amy Holden Jones, Bryan Singer, Anne Thomopoulos, Oly Obst, Gary Michael Walters, David Lancaster, Michel Litvak
By ED BARK
@unclebarkycom on Twitter
Following the quick cancellation of
Mind Games
, ABC wastes no time getting into the head of a bi-polar neurologist in
Black Box
.
Dr. Catherine Black (Kelly Reilly) is dubbed "the Marco Polo of the brain," although her out-of-body Jezebel persona holds center stage in Thursday's premiere episode. Watching Black go off her meds and in a sense, "Hulk out," is too laughable to be harrying, though. Reilly, the latest Brit to front an American TV series, contorts herself into a swirling, whirling dervish of a sexual predator, with the horn section striving to keep pace as she beds a limo driver before teetering on the edge of a high-rise hotel balcony. Only a timely thunder storm sends her crashing back to earth.
"I can be such a bitch," Catherine tells the man who wants to marry her (David Ajala as chef Will Van Renseller). He's later told why, prompting a break up and a make up.
If
Black Box
's anti-heroine has excess baggage, so does the drama's large grouping of executive producers. Among them is Bryan Singer, who worked behind the scenes on
House
and whose
X-Men: Days of Future Past
is due to be released next month. Singer is newly embroiled in allegations that he sexually abused a teenager. His lawyers have denied the very public charges, by the
now 31-year-old Michael Egan
. But Singer has gone into hiding and ABC has pulled on-air promos touting him as one of the creative minds behind
Black Box
.
The network made the series opener available for review, but then skipped ahead to Episode 3 rather than offering a look at next week's hour. Catherine's extracurricular exploits, which she considers an "incredible high," are not on display in the steadier latter episode. But the patients remain highly out of the ordinary, whether it's a married couple battling "LBD" (sexless Lesbian Bed Death) among other things or a woman who has lost perception of "the left side of her world."
Catherine is director of "The Cube," where all the cool, prickly, top neurosurgeons ply their wares. They include Dr. Ian Bickman (Ditch Davey), a prototypical womanizer who speaks in a silly manly rasp. Vanessa Redgrave also drops in on occasion as Catherine's therapist, Dr. Hartramph. In Episode 1, she urges her prized patient, "Don't 'catastrophize. ' " That must be newspeak for "Calm down."
Catherine also has a devoted brother, Joshua (David Chisum), who shares a dark secret about their past that's fully revealed in Episode 1. Joshua is married to uptight, insecure Reagan (Laura Fraser), and they have a bright, teen daughter named Esme (Siobhan Williams) who greatly admires Catherine. You're probably going to figure all of this out before
Black Box
spills its beans.
The featured patients in Thursday's opener, neither of whom really register, are an elderly woman with an imaginary dwarf friend she calls Yojo and a brainy young man whose acceptance to MIT is waylaid by his sudden impulse to draw wildly complex pictures on walls.
Catherine's own tangled webs are the premiere's marquee storyline, though And her impromptu, madcap dance atop a hospital staircase is exceedingly ripe for a
Saturday Night Live
parody if
Black Box
somehow succeeds as a spring replacement for
Scandal
, which had its season finale last week.
More likely, ABC will be sticking affiliate stations' late night local newscasts with another lousy lead-in just in time for the first night of the four-week May "sweeps" ratings period. The network already leads its Big Four broadcast peers in first-year drama series cancellations, with six so far this season.
Black Box
at least has moments of unintentional high comedy in Catherine Black's loopy magic carpet rides. But the series nonetheless takes itself way too seriously to be taken seriously.
GRADE:
C
Email comments or questions to:
unclebarky@verizon.net