Idol: Evicted Jason Castro seems glad all over
05/08/08 06:58 AM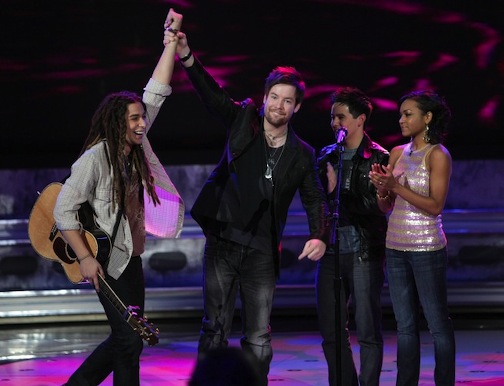 Rockwall's hardly sad Jason Castro (left) says goodbye to Idol grind.
By ED BARK
Rockwall's Jason Castro got sent home Wednesday night after becoming the first finalist to openly plead
American Idol
fatigue.
The dreadlocked 21-year-old essentially wrote his own obit the night before with dreadful performances of "I Shot the Sheriff" and "Mr. Tambourine Man."
"Someone told me that I shot the tambourine man yesterday," he told host Ryan Seacrest Wednesday, referring to the lyrics he forgot before judge Simon Cowell began lowering the guillotine by telling him, "Jason, I'd pack your suitcase."
Castro ultimately found himself paired with veteran Bottom Two-er Syesha Mercado, who's been coming on strong while he kept regressing.
"I almost feel like you're relieved," Seacrest said after sparing Mercado.
"A little," he said. "There's three songs next week. I don't know what I would have done."
Castro had greased his skids with recent comments in
Entertainment Weekly
, where he admitted to struggling with Neil Diamond's songs the previous week and not really caring all that much how his performance fared.
"What happens happens," he told the magazine. "I'll sing and if people like it, they like it. And if they don't, they don't. I'm kind of ready to go home."
It at least was a refreshing departure from typical down-the-stretch
Idol
swan songs. Brooke White, the eventual evictee during Diamond week, had sobbed herself into a pool of self-pity when Seacrest put it to her. Castro exited pickin' and grinnin' after playing around with a final performance of "I Shot."
Earlier in Wednesday's show, a phone-in questioner asked the four finalists what their biggest challenges had been.
"Just the brain bein' dead," Castro replied.
He later told Seacrest, "I think it's just gettin' tough for me. My inexperience is showin' up."
Rockwall is still planning some homecoming festivities for Castro while Mercado, David Archuleta and David Cook brace themselves for another pivotal performance show.
Wonder if he'll even watch.