HBO, Samberg are winning combo at Primetime Emmys
09/21/15 09:13 AM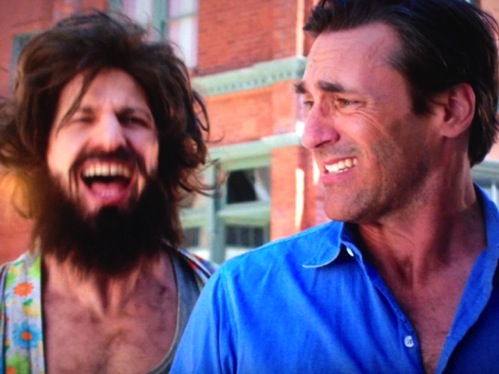 A ripe Andy Samberg after one year of binge-watching in his bathroom-less "TV Viewing Bunker." Repulsed Jon Hamm later cheered up after winning his first Emmy in 16 tries. Photo: Ed Bark
By ED BARK
@unclebarkycom on Twitter
Winning 14 Emmys and more than half of those awarded Sunday night, HBO reasserted itself as the lord and master of this domain after limping away from last year's ceremony with just four statues.
The premium cable network's dominance included first time wins for
Game of Thrones
and
Veep
in the climactic best drama and comedy series categories, plus six Emmys for
Olive Kitteridge
, including for best limited series.
Veep
's win ended
Modern Family
's run of five straight years as best comedy. The ABC show was bidding to become the first ever to win six consecutive Emmys in this category.
The closest rival network, Comedy Central, received four Emmys, three of them for
The Daily Show
in Jon Stewart's last season as host. Last year's top winner, CBS, dropped from five to just one for repeat winner Alison Janney in
Mom
. Host network Fox was shut out, as was NBC last year in that line of duty.
The biggest and by far the most popular non-repeat winner was Jon Hamm, who finally prevailed in his last chance to be honored as the iconic Don Draper in AMC's
Mad Men
. Hamm had been nominated a grand total of 15 times without a win before at last hearing his name called in triumph on his 16th try.
"There has been a terrible mistake, clearly," he joked after a standing ovation.
Still, the emotional high point may have been Tracy Morgan's first television appearance since his long recuperation from a June 2014 car wreck caused by an inattentive truck driver. Morgan, who is scheduled to host
Saturday Night Live
on Oct. 17th, presented the final award of the night for best drama series.
"I was ecstatic to learn I wasn't the one who messed up," Morgan said.
Uza Aduba, who plays Suzanne "Crazy Eyes" Warren in Netflix's
Orange Is the New Black
, became the first actress to win an Emmy for the same role in both comedy and drama. That's because
OITNB
switched categories this year. Only one actor, Ed Asner, has turned this trick, winning as Lou Grant in both
The Mary Tyler Moore Show
and
Lou Grant
.
Host Andy Samberg, in his opening monologue, noted that Aduba would be the "the new Ed Asner" if she won again as "Crazy Eyes."
Another black actress, Viola Davis, made Emmy history by becoming the first to win an Emmy as best actress in a drama series. Davis, star of ABC's
How to Get Away with Murder
, bested Taraji P. Henson of Fox's
Empire
, who also would have made history.
Another African-American actress, Regina King, received an Emmy as best supporting actress in a Limited Series or Movie for her performance in ABC's
American Crime
.
Amazon Prime broke through with its first two major Emmys, including a best actor in a comedy series trophy for Jeffrey Tambor as Mort turned Maura Pfefferman.
Samberg turned out to be a winning host, beginning with an opening short film tied to the theme of "So Many Shows and So Little Time." So he hunkered down in his "TV Viewing Bunker," emerging after a year of catchup viewing as ripe, bearded, bedraggled happy camper. Samberg's co-stars included Hamm, Kerry Washington of
Scandal
and Bob Odenkirk of
Better Call Saul
.
His monologue had several deft zingers, with Samberg noting that Paula Deen now is competing on ABC's
Dancing with the Stars
. Still, "if I wanted to see an intolerant lady dance," he added, "I would've gone to one of Kim Davis's four weddings." The reference was to the Kentucky clerk who has refused to issue licenses for same-sex marriages.
Samberg also congratulated Emmy voters for their diverse selection of nominees. "Racism is over," he proclaimed. "Don't fact-check that."
He ended with a flourish: "All right, let's give away some mother-humpin' Emmys!"
HBO ended up winning 14 of the 26, followed by Comedy Central (4); ABC and Amazon Prime (2 each); and AMC, CBS, NBC and Neftlix (one each).
Here are the specifics:
Drama series
-- Game of Thrones (HBO)
Comedy series
-- Veep (HBO)
Limited series
-- Olive Kitteridge (HBO)
Reality competition series
-- The Voice (NBC)
Variety talk series
-- The Daily Show (Comedy Central)
Variety sketch series
-- Inside Amy Schumer (Comedy Central)
Actor, drama series
-- Jon Hamm, Mad Men (AMC)
Actor, comedy series
-- Jeffrey Tambor, Transparent (Amazon Prime)
Actor, limited series or movie
-- Richard Jenkins, Olive Kitteridge (HBO)
Supporting actor, drama series
-- Peter Dinklage, Game of Thrones (HBO)
Supporting actor, comedy series
-- Tony Hale, Veep (HBO)
Supporting actor, limited series or movie
-- Bill Murray, Olive Kitteridge (HBO)
Actress, drama series
-- Viola Davis, How to Get Away with Murder (ABC)
Actress, comedy series
-- Julia Louis-Dreyfus, Veep (HBO)
Actress, limited series or movie
-- Frances McDormand, Olive Kitteridge (HBO)
Supporting actress, drama series
-- Uza Aduba, Orange Is the New Black (Netflix)
Supporting actress, comedy series
-- Allison Janney, Mom (CBS)
Supporting actress, limited series or movie
-- Regina King, American Crime (ABC)
Directing, drama series
-- Game of Thrones (HBO)
Writing, drama series
-- Game of Thrones (HBO)
Directing, limited series or movie
-- Olive Kitteridge (HBO)
Writing, limited series or movie
-- Olive Kitteridge (HBO)
Directing, comedy series
-- Transparent (Amazon Prime)
Writing, comedy series
-- Veep (HBO)
Directing, variety series
-- The Daily Show (Comedy Central)
Writing, variety series
-- The Daily Show (Comedy Central)
Email comments or questions to:
unclebarky@verizon.net