ABC's American Crime returns in superb form
01/06/16 08:53 AM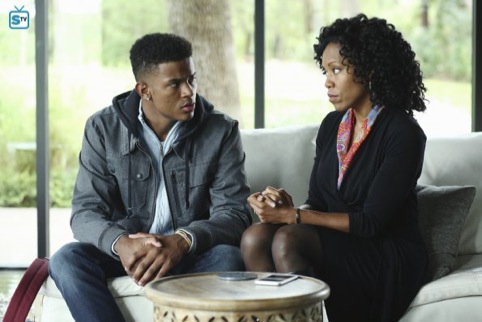 Trevor Jackson, Regina King co-star in Season 2 of American Crime.
ABC photo
Premiering:
Wednesday, Jan. 6th at 9 p.m. (central) on ABC
Starring:
Felicity Huffman, Timothy Hutton, Regina King, Lili Taylor, Trevor Jackson, Connor Jessup, Joey Pollari, Elvis Nolasco, Angelique Rivera, Andre Benjamin, Hope Davis
Produced by:
John Ridley, Michael J. McDonald
By ED BARK
@unclebarkycom on Twitter
The opposite used to be true. Cable network series, particularly dramas, were seriously challenged to measure up to the broadcast network counterparts on ABC, CBS, NBC and Fox.
Now it's a rarity when an old-line Big Four series equals or exceeds the best that cable -- or streamers such as Netflix -- have been pouring out in abundance during the past decade.
ABC's 10-episode Season 2 of
American Crime
is a bracing, provocative exception to those new rules. Launching on Wednesday, Jan. 6th, it's every bit as good as anything else out there. Independent from a
first-rate Season 1
-- but starring some of the same core cast members -- this is another exceptionally intelligent look at a polarizing tragedy with rippling effects. But it's not a polemic. Principal executive producer John Ridley (
12 Years a Slave
) certainly hasn't crafted an "escapist" drama. But
American Crime
is entertaining in its own way with unforeseen developments, vivid characterizations and, above all, a sense of purpose that makes this story matter without making it a grind to watch.
Felicity Huffman, Timothy Hutton, Regina King, Lili Taylor, Elvis Nolasco and Richard Cabral all return in new roles. King won an Emmy for her performance in Season 1 while Huffman and Hutton both were nominated.
Season 2, set in Indianapolis, begins with Taylor's character, working class single mother Anne Blaine, calling 911 and saying "I want to report a rape." But it's her son, Taylor (Connor Jessup), who's the alleged victim. Pictures of the glassy-eyed, disheveled Leyland Academy student are posted online after a so-called "Captains' Party" thrown by the leaders of the school's state championship basketball team. Over the years it's become a booze- and drug-fueled orgy, with school officials supposedly none the wiser.
Jessup, formerly of TNT's
Falling Skies
series, is brilliant in the challenging role of a kid who just wants it all to "go away" while his mother demands justice. Many of the scenes in
American Crime
are shot in extreme closeup. And in Episode 2, Taylor's pain and humiliation, during a "rape kit" ordeal in a hospital, are communicated unforgettably by a young and already extraordinary actor.
Huffman, seldom less than superb in any role she takes on, plays sharply focused Leslie Graham, head master of the upper echelon private school and also an an eyes-on-the-prize fundraiser with a steely resolve. Six years ago, she hired Dan Sullivan (Hutton) to turn around the school's basketball program. The Knights are now Leyland's darlings, with Kevin LaCroix (Trevor Jackson) the star player and Eric Tanner (Joey Pollari) the appreciably less-talented white co-captain. Both are roped into the mushrooming scandal involving what or what didn't happen at that Captains' party.
King is cast as Kevin's mother, Terri, a coldly efficient, well-paid workplace boss lady who wants her son to associate with the "right" people. Which in her view means people of means. This is another high-powered performance by King, who fiercely protects what's hers while keeping both her son and husband Michael (Andre Benjamin) on full alert. But she's capable of occasionally trying just a little sharp-edged tenderness during a memorable heart-to-heart talk with her son in Episode 2.
There's also another school spotlighted in
American Crime
. Thurgood Marshall High is the public institution of lower learning that Taylor Blaine attended before his mother obtained the financial aid needed for him to transfer to tonier Leyland Academy. Taylor's girlfriend, Evy Dominguez (Angelique Rivera), still attends Thurgood Marshall, whose principal, Chris Dixon (Nolsasco), has become a pragmatic realist with an aversion to activists. But the rich-poor dynamics haven't yet reached the point of the heated West Dillion-East Dillon High rivalry in the later seasons of
Friday Night Lights
.
ABC made the first four episodes of Season 2 available for review. They're riveting from the first minute, with stellar, resonant performances driving a story with a high fiber content.
American Crime
doesn't flinch -- or preach. But it does teach in ways that send it to the head of the class of 2016.
GRADE:
A
Email comments or questions to:
unclebarky@verizon.net