Broadchurch returns with an assured grip for what's billed as its final season
06/28/17 08:24 AM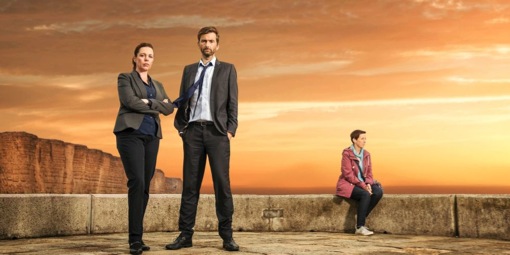 Olivia Coleman, David Tennant team up a last time (supposedly) in Season 3 of Broadchurch. This time they investigate a sexual assault.
BBC America photo
Premiering:
Wednesday, June 28th at 9 p.m. (central) on BBC America
Starring:
David Tennant, Olivia Coleman, Jodie Whittaker, Andy Buchan, Julie Hesmondhalgh, Charlie Higson, Mark Bazeley, Sarah Parish, Arthur Darvill, Georgina Campbell, Lenny Henry, Sebastian Armesto, Carolyn Pickles, Hannah Millward, Charlotte Beaumont, Becky Brunning, Chris Mason, Hannah Rae, Mariah Gale
Produced by:
Chris Chibnall, Jane Featherstone
By ED BARK
@unclebarkycom on Twitter
Open-ended endings haven't yet reached the epidemic stage.
They're spreading, though. The recent finales of HBO's
The Leftovers
and FX's Season Three of
Fargo
both left viewers to draw their own conclusions while no one in their right mind expects David Lynch's ongoing
Twin Peaks: The Return
to provide any firm grounding after its 18 episode-run on Showtime. This is even more certain after Sunday's beyond mondo bizarro, yet infuriatingly transfixing hour of whatever that was.
David Chase can be blamed, or credited, for opening this door with his whatever-you'd-like-to-make-of-it denouement of HBO's
The Sopranos
.
Lost
likewise left a lot up to interpretation.
But a first-rate TV series also is capable of knowing how and when to wrap things up with resolution rather than raising more questions. So it's comforting, in a conventional sense at least, to come away with firm answers after investing in all eight episodes of
Broadchurch
's Season 3, which also is billed as its last. It ended two months ago on the United Kingdom's ITV network and has its Wednesday, June 28th U.S. premiere on BBC America.
David Tennant and Olivia Colman re-team as Detective Inspector Alec Hardy and Detective Sergeant Ellie Miller, this time in pursuit of whoever raped 49-year-old Trish Winterman (Julie Hesmondhalgh) after an alcohol-fueled 50th birthday party for her best friend, Cath Atwood (Sarah Parish).
At the end of their winding investigation, Alec matter-of-factly tells Ellie, "We did our job, Miller. We got the people who are responsible. That's all we can do." Bravo.
Tennant's Alec remains intense, temperamental and steel-eyed while the steadier and outwardly more empathetic Ellie reproaches or twits him when necessary. It remains a great pairing, with both gumshoes also striving in their own ways to discipline and nurture emotionally bruised teenage offspring.
The seaside, tourist-tempting community of Broadchurch was first rocked five years ago by the death of Danny Latimer, son of Beth and Mark Latimer (Jodie Whittaker, Andrew Buchan). The perpetrator turned out to be someone very close to Ellie. But a subsequent trial ended in acquittal and the injustice of it all still rages within Mark much more so than Beth.
Their continued struggles are very much part of Season 3, which also introduces a number of new characters of import. Most of them become suspects in a widening case where seemingly incriminating evidence often isn't what it seems. But isn't this always the way?
New to the investigative team is willful young Detective Constable Katie Harford (Georgina Campbell), whose impertinence vexes both Alec and Ellie. Katie also is the daughter of Ed Burnett, manager of a farm shop that employs both Trish and Cath. This turns out to be quite problematic over time. Trish is separated from her husband, Ian (Charlie Higson), while Cath is in a loveless marriage with Jim Atwood (Mark Bazeley), a philandering mechanic.
Two supporting characters from
Broadchurch's
first two seasons have less to do, but still do a lot with it. Maggie Radcliffe (Carolyn Pickles), longtime editor of the
Broadchurch Echo
, clashes with her new, much younger corporate boss, Caroline Hughes (Mariah Gale), who insists on a tabloid approach.
But the newspaper's straight-ahead, ethical journalism "matters to people," Maggie protests.
"Then they should be buying it in greater numbers," Caroline sniffs. She's instantly easy to loathe.
Young Rev. Paul Coates (Arthur Darvill) likewise is back as the dedicated Anglican vicar who came under some suspicion in Season 1 but now is a would-be bedrock with a declining flock. His scenes with the Latimers are some of Season 3's strongest.
Tennant and Colman are the marquee players, though. Their consuming dedications to duty, which have repercussions on the domestic front, drive
Broadchurch
through its thickets of who was where and when and why. Theirs is one of TV's best-ever detective duos, and they won't relent until a culprit or culprits are apprehended.
In the end, the only open question (from a crime solving standpoint) is whether this indeed is the finale for
Broadchurch
. Creator, writer, executive producer Chris Chibnall emphatically says that it is. If that's really so, Season 3 acquits itself exceedingly well. As do the community's stately cliffs, which never miss an episode during the course of all those weekly mini-cliffhangers -- and forthcoming answers.
GRADE:
A-minus
Email comments or questions to:
unclebarky@verizon.net