TNT's Rizzoli & Isles: Sounds like a pasta dish, but served as a crime drama
07/12/10 09:05 AM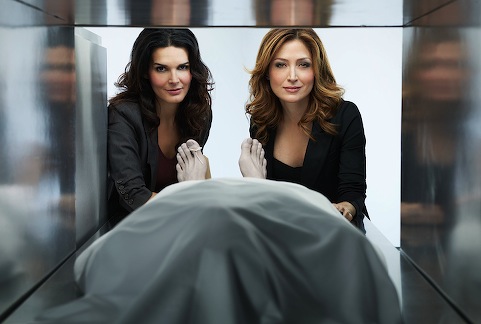 Crime-stoppers Jane Rizzoli and Maura Isles. TNT photo
Premiering:
Monday, July 12th at 9 p.m. (central) on TNT
Starring:
Angie Harmon, Sasha Alexander, Lorraine Bracco, Lee Thompson Young, Bruce McGill, Jordan Bridges
Produced by:
Janet Tamaro, Bill Haber, Joel Fields
By ED BARK
It's debatable what's more gruesome in TNT's new
Rizzoli & Isles
.
Is it the camera's lingering looks at horrific crime scenes? Or might it be a now notably puffy Lorraine Bracco's portrayal of a one-note scold of a mom whose two scenes in Monday's premiere find her kvetching non-stop?
Bracco knew the glory of
The Sopranos
, where she so memorably played Tony's contentious therapist, Dr. Jennifer Melfi. Viewers know the gory of countless "procedural" police shows and their oft badly mutilated corpses.
TNT, which now has nine original drama series in its arsenal (including new episodes of NBC's abandoned
Southland
), will be pairing
Rizzoli & Isles
with its most enduring crimefighter,
The Closer
. This could be a very potent summertime duo, with Kyra Sedgwick's tough-as-nails Brenda Johnson setting the table for Angie Harmon's hoarse-voiced, doggedly determined detective Jane Rizzoli.
Harmon, veteran of both NBC's long-running
Law & Order
and ABC's short-lived
Women's Murder Club
, is joined by
NCIS
veteran Sasha Alexander as a stylish but capable medical examiner named Maura Isles. They're regulars at both hard core crime scenes and social settings.
A particularly notable scene in tonight's opener finds Rizzoli platonically sharing a bed with Isles while they discuss the attributes of a mysterious, hunky new agent who's blown into Boston to help apprehend a very sadistic and twisted serial killer.
"Should we draw straws?" Isles asks about the possibility of further adventures with him.
"Couldn't we just show him our tits and let him decide?" Rizzoli ripostes. Another TV no-no has been breached. Maybe "cock" is next in line.
Humor otherwise is in short supply during the manhunt for a Boston killer who at first is thought to be copycatting the technique of an imprisoned piece of human excrement known as "The Surgeon." Rizzoli was once nearly his victim, but escaped with nail holes in her hands that now are scarred over.
"I like that scent -- the smell of lavender and fear," he taunts when she comes to interrogate him in prison. Asked what she'd like to do with him, Rizzoli says, "I'd like to get my gun and put it in your mouth, and pull the trigger."
This isn't exactly breezy, escapist entertainment. But Harmon is very good in her latest detective outing and Alexander provides strong support. Together they're a winning pair, whether showing them or not.
It's kind of shocking, however, to see Bracco in such a subservient and seemingly throwaway followup to
The Sopranos
. Even Harmon can't stand to have her around -- at least when she's in character.
"I'm leaving," she tells Bracco's mama Angela after she again proves to be too much to take in their second scene together.
"You're leaving! Where are you going?"
"Someplace you're not."
Wise decision.
Next week's second episode will have Rizzoli and Isles in hot pursuit of a Boston Strangler-type killer. But there'll also be time for Isles to go out on a date. And in Episode 3, it'll be Rizzoli's turn to meet a man after mama sets her up.
Viewers without any aversion to graphic crime scenes -- and there must be many millions by now -- are advised to make time for
Rizzoli & Isles
. It's pro forma crime-solving for the most part. But the two lead actresses are pros who deliver the goods, even if Bracco's character needs a makeover. Otherwise it may be best to kill her off and put the show's heroines on the trail of a serial murderer whose MO is preying on harpies.
GRADE:
B