Sign o' the Apocalypse? ABC slots Conveyor Belt of Love after January premiere of new Bachelor
12/10/09 10:18 AM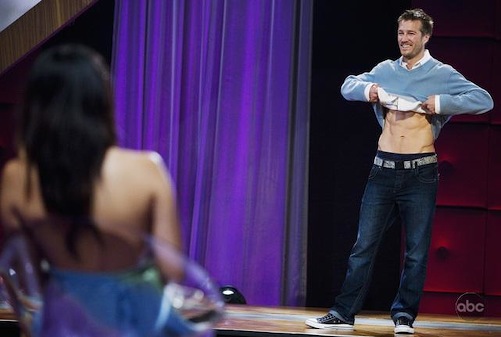 More than you can stomach? Here comes Conveyor Belt of Love.
By ED BARK
The Earth-invading aliens of ABC's
V
might have made a sharp U-turn back to Krypton had they known this was coming.
But yes, it's true. On Monday, Jan. 4th, ABC plans to proudly present
Conveyor Belt of Love
. It's scheduled to follow the season premiere of
The Bachelor: On Wings of Love
, starring Dallas commercial pilot Jake Pavelka as the latest hunky rose-bestower.
The "hilarious and fast-paced" one-hour special lines up 30 men as moving targets for five women. Each guy gets 60 seconds to make an impression. Those who do so will step off the belt as another male passes by. But wait, there's more, says ABC. "If two or more of the women are interested in the same man, the tables turn and the man on the conveyor belt gets to choose which one he would like to wait for."
Matched couples then date "in the hope of finding a true connection."
Actual ABC programming executives sat in a pitch room and green-lighted this thing. Which prompts Uncle Barky to float an even better idea.
It's called
Suck on a Sausage
. Six scantily clad exotic dancers writhe to the tune of "Simply Irresistible" while suggestively wrapping their lips around some of Wisconsin's finest bratwursts. Meanwhile, a like number of men strive to keep their pants from tent-poling. Re-channeling the ninth inning of Game 6 of the Mets-Red Sox World Series is an acceptable means of keeping your mind otherwise occupied. But whatever your head game, no fair looking away!
The guy who holds out the longest gets to pick one of the women for a very special date at her place of work. Can they find true love during a climactic, no-holds-barred lap dance?
Let the bidding wars begin.