Joker's wild: Perry will read "Top 10 List" on Thursday's Late Show with David Letterman (updated with video)
11/10/11 11:37 AM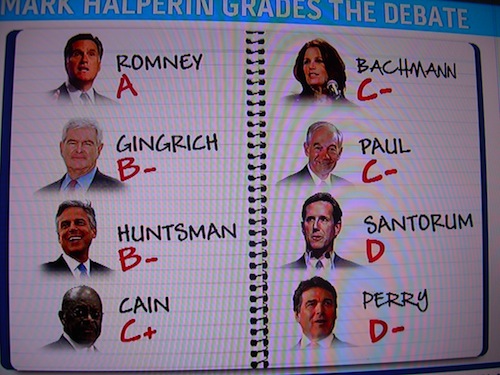 They must have graded on the curve for Rick Perry. Photo: Ed Bark
By ED BARK
Swiftly shifting to damage control mode, goofy Gov. Rick Perry will make his first visit to CBS'
Late Show with David Letterman
on Thurs., Nov. 10th.
His assignment: presenting the nightly Top 10 List.
Perry, lately the subject of a recurring
"Rick Perry: Drunk?" feature
on
Late Show
, will be appearing on the night after he tried and failed three times to recite which three federal government agencies he would cut as president. The Texas Republican got as far as Commerce and Education before stalling on Energy.
The CBS announcement didn't specify what Perry's topic will be. But he presumably has ruled out the "Top 10 Reasons Why I'm Unfit to be President."
The fun and games will continue on Friday of next week, when embattled GOP presidential hopeful Herman Cain is scheduled to sit down with Letterman. They do have sex scandals in common, though, so Letterman might have to be on guard.
ADDENDUM:
Perry seemed to put more effort into this than he did with the debate. Here's his presentation of the "Top 10 Rick Perry Excuses." The material is decent and Perry's spirited delivery turns out to be more than adequate.