MacGyver re-do gives CBS another retro dud
09/23/16 09:22 AM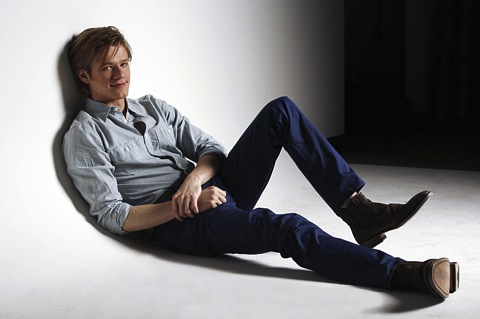 The new runway model ready Angus "Mac" MacGyver. CBS photo
Premiering:
Friday, Sept. 23rd at 7 p.m. (central) on CBS
Starring:
Lucas Till, George Eads, Sandrine Holt, Tristin Mays, Justin Hires
Produced by:
Peter Lenkov, Craig O'Neill, James Wan, Henry Winkler, Lee Zlotoff, Michael Clear
By ED BARK
@unclebarkycom on Twitter
CBS' new and very prettified Angus "Mac" MacGyver presumably can chew gum and turn it into a tracking device at the same time.
He cannot, however, work wonders with this mechanically scripted and acted re-do of ABC's durable
MacGyver
, which ran from 1985 to 1992 on ABC.
Stepping in for Richard Dean Anderson is 26-year-old newcomer Lucas Till, a Fort Hood, TX native who easily could still pass for a freshman on
Glee
. His abundance of narration during Friday's premiere bespeaks the show's seeming inability to pull off anything resembling natural-sounding dialogue.
MacGyver
otherwise bounces from one less than scintillating action scene to another, with a generic soundtrack of utmost urgency. Will MacGyver save the day? Snore.
Then as now, one of the executive producers is Henry Winkler, who in 1985 had just completed his superstar-making turn as Arthur "The Fonz" Fonzarelli on
Happy Days
. Winkler remains one of Hollywood's busiest entities, grinding out television entertainment from both behind and in front of the camera. He just completed a stint as himself in NBC's
Better Late Than Never
, a goofball Ugly American outing in Asia with fellow seniors William Shatner, George Foreman and Terry Bradshaw. The ratings were pretty strong, which likely means another one of these next summer.
The new
MacGyver
begins with the title character's introduction of his teammates before he infiltrates a posh party in search of a hidden, glowing biological weapon. Nikki Carpenter (Tracy Spiridakos) is "the best senior analyst in the business" while Jack Dalton (former
CSI: Crime Scene Investigation
co-star George Eads) cracks wise as a maverick ex-CIA agent.
"What do I do now? Little of this, little of that," MacGyver narrates before entering the party in a tux and then impersonating a waiter. But not everything goes as planned, prompting Nikki to shout from her command post, "Mac! Get out of there now!"
Your pulse is supposed to be racing at this point. But I had to check mine to make sure it hadn't shut down.
After further developments, which are supposed to be shocking,
MacGyver
lurches into "Three Months Later" mode and introduces two more characters.
Wilt Bozer (Justin Hires) is Mac's slap-happy black roommate, and unfortunately seems like a throwback to
Rochester from CBS' old Jack Benny Program
for those old enough to have grown up during television's formative years. There's also sarcastic Riley Davis (Tristin Maya), who's sprung from the California Supermax Prison because she has skills the team can use. Providing marching orders is director of operations Patricia Thornton (Sandrine Holt), who at one point is called on to emote, "The clock's ticking. We need you." And later: "This is a damned catastrophe of biblical proportions."
So yeah, that all-powerful biological weapon remains at large, and only MacGyver and company can avert a possible Armageddon. Our hero is soon racing after a plane while telling viewers, "Yeah, I know what you're thinking. This is insane."
The resultant explosions look cheap and the cliche-pocked script keeps self-destructing -- "We're running out of time, Mac" -- before the bad guys are neutralized. MacGyver deploys a few household items to make all of this happen, but not all that inventively or interestingly. Till's acting remains a work in progress, if that.
Viewers might be better served if CBS simply filed for creative bankruptcy at this point rather than continue to pound out the likes of
MacGyver, Kevin Can Wait
and another upcoming paint-by-the-numbers sitcom starring Matt LeBlanc as a vexed stay-at-home dad. While rivals ABC, NBC and Fox all show some creative sparks this fall, television's most storied broadcast network continues to run in place and went Emmy-less Sunday night during the 68th annual prime-time awards ceremony.
MacGyver
has less chance of winning an Emmy than its namesake has of being stumped on how to turn a hair dryer into a stun-gun.
GRADE:
D
Email comments or questions to:
unclebarky@verizon.net