FALL TV PREVIEW: New series -- Private Practice (ABC)
09/26/07 10:36 AM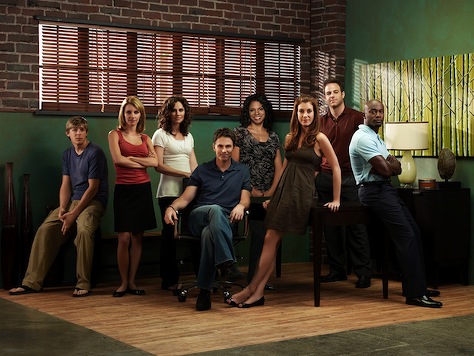 Premiering:
Wednesday, Sept. 26, at 8 p.m. (central) on ABC
Starring:
Kate Walsh, Tim Daly, Taye Diggs, Amy Brenneman, Audra McDonald, Paul Adelstein, KaDee Strickland, Chris Lowell
Created by:
Shonda Rimes
By ED BARK
Bereft of McDreamy, McSteamy and any further McReasons to stay at Seattle Grace, headstrong surgeon Addison Forbes Montgomery permanently heads south to L.A. for more McAngst.
ABC's
Grey's Anatomy
spinoff, pre-launched near the end off last season, is now fully operative in
Private Practice
. That doesn't mean the operation is a success. Wednesday's premiere often is too cute, far-fetched or far-flung for its own good.
Addison (Kate Walsh) almost immediately is glimpsed in the nude by her new next door neighbor and colleague, the newly divorced Dr. Sam Bennett (Taye Diggs). Way too much is made of this, of course, after Addison arrives to surprise the dug-in staff at the Oceanside Wellness Center. Its majority owner, Dr. Naomi Bennett (Broadway star Audra McDonald), didn't tell anyone she'd been hired. They don't like that, leaving Addison feeling like an outcast again.
Diggs and Tim Daly, who plays Dr. Pete Wilder, both are rebounding from failed ABC series -- respectively
Day Break
and
The Nine
.
Another familiar face, Paul Adelstein, is segueing from the second season of Fox's
Prison Break
, where he got killed, to the role of pediatrician Cooper Freedman, whose hobby is serial Internet dating. Amy Brenneman, veteran of both
Judging Amy
and
NYPD Blue
, plays psychiatrist Violet Turner. So there's lots of star power in this mix. Egos, too.
The opener also throws in three cases. A woman patient of Turner's is on her hands and knees in a department store, obsessively counting tiles. But why? An old crow is planning to make a sperm deposit, but he dies instead. Both his young girlfriend and ex-wife then battle over his in-body procreative juices. And the pregnant daughter of an icy father must undergo a life-threatening delivery. Typical day at the office.
Grey's Anatomy
creator Shonda Rimes already has shown her ability to juggle medical crises with pleasures of the flesh. But she launched
Grey's
with a mostly unknown cast that initially would obey all orders.
Private Practice
doesn't afford her that luxury.
Even relative newcomer Chris Lowell, who plays Oceanside's receptionist and would-be midwife, has some notches on his resume after playing "Piz" Piznarski on
Veronica Mars
. Keeping everyone happy off-camera may end up providing
Private Practice
's principal drama. The opening episode already shows signs of wandering off into too many subplots. As several characters say in unison at one point, "Focus!"
Grade:
C